For World Chocolate Day, Gavan Knox shared with us his award-winning Smokin' Pig Licker Brownies. You will absolutely love this easy, bold and tasty recipe.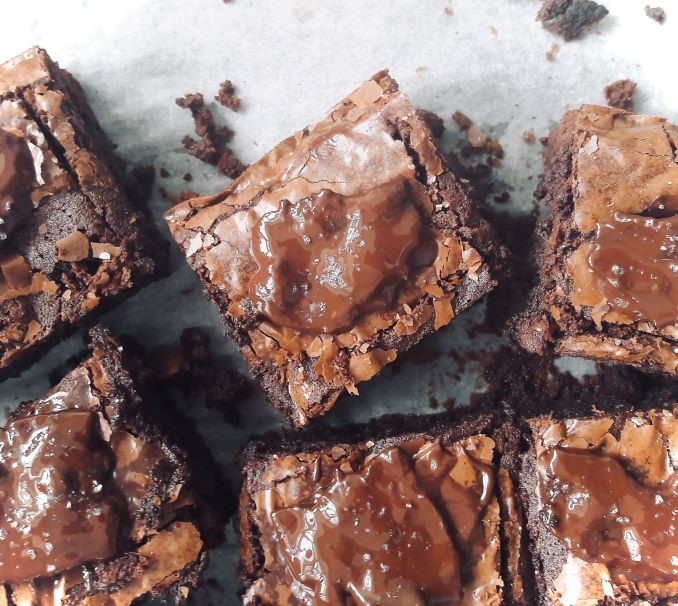 Smokin' Pig Licker Brownies
Makes 12
Ingredients:
● 1 cup bacon, finely chopped
● 2 teaspoons maple syrup
● ¾ cup unsalted butter, cubed
● 6oz semi-sweet chocolate, broken into pieces
● 3 eggs
● 1 cup sugar
● ¾ cup plain flour
● ½ cup cocoa powder
● 1 teaspoon smoked paprika
● ½ teaspoon mild chilli powder
● 2oz dark chocolate chunks
To decorate
● 3 full pieces of bacon 3 rashers, each cut into 4
● 4oz semi-sweet chocolate, melted
● Sea salt flakes
Directions:
1. Set your oven to 350°F and line a deep 12″x9″ baking tray with baking parchment leaving an overhang each side.
2. Fry the bacon in a pan until just starting to crisp. Add the maple syrup and fry until a shade browner and crisper. Remove from the heat and leave to cool on a plate.
3. Melt the butter and chocolate in a bowl over a saucepan of simmering water (or bain-marie), stirring occasionally. Once melted, remove from the heat, and allow to cool.
4. In the bowl of a stand mixer, beat the eggs and sugar until the mixture is thickened and fluffy, then, in a separate bowl, combine the flour, cocoa powder, smoked paprika and chilli powder.
5. Fold the cooled chocolate mixture into the egg mixture. Sieve in the dry ingredients, and fold together until uniform in colour.
6. Fold in the chocolate chunks and bacon pieces. You may need to break up the bacon pieces as they may have stuck together while cooling.
7. Pour your mixture into the lined tray and gently spread to level the surface.
8. Place in the oven for 20-25 minutes, then leave to cool completely in the tin before cutting into squares.
9. To decorate, place the larger bacon pieces in the frying pan and cook until crisp. Remove and leave to cool.
10. Melt the remaining chocolate in a microwave on short bursts.
11. Coat the bacon pieces one at a time in the melted chocolate. Place a bacon piece on top of each brownie and sprinkle with sea salt.
12. Leave to set, then serve.
***
Follow Gavan Knox on his website and Instagram for more recipes!