Canadian MSC Ambassador Chef Charlotte Langley shared with us this recipe for Fish Grinder Sando. Call it a 'sub', 'hoagie', 'hero' or 'grinder', this sandwich is hearty, filling and so satisfying. Fresh garlic gives it just the right amount of bite and tinned smoked salmon shines as an unexpected 'sando' star.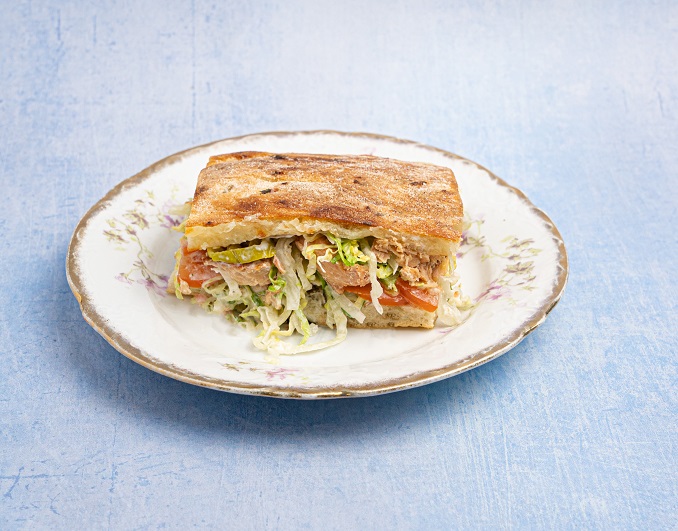 Fish Grinder Sando
Prep: 15 minutes
Cook Time: 5 minutes
Serving size: 2 as a main course for lunch or dinner
Experience level: Beginner
Ingredients:
2 tins (approx. 150 g ea.) MSC certified sustainable smoked salmon (or substitute for non-smoked tinned salmon)
2 slices fresh lavash bread or ½ a focaccia sliced lengthwise in two
5 slices of provolone cheese
4 (180 g) cups iceberg lettuce, shaved
1 green pepper, sliced
1 large tomato, sliced
For Dressing:
1/2 cup (125 ml) mayo
½ cup (64 g) grated parmesan
1 tbsp (15 ml) red wine vinegar
¼ cup (37 g) pepperoncini, roughly chopped
1 tsp (5 g) fresh garlic, grated or minced
Directions:
1. Preheat oven to broil.
2. In a medium-sized bowl, mix the mayo, parmesan, red wine vinegar, pepperoncini and garlic. Toss Iceberg lettuce with the mayo dressing and set aside.
3. Top one piece of lavash (or one half of the focaccia) with the provolone. Broil until melted and bubbly.
4. Remove from oven and top generously with the iceberg mixture, green peppers and tomato slices.
5. In a small bowl, using a fork break up the smoked salmon with the oil from the tin into bite-sized chunks. Spread evenly on the remaining piece of lavash (or the other half of the focaccia)
6. Assemble both halves, wrap in parchment paper (if desired), cut into two and enjoy!