Courtesy of Mazola, these savoury bites are a fun and tasty twist on classic pizza. Made with a blend of pizza sauce, mozzarella cheese, and your favourite toppings, these muffins are baked to perfection in a muffin tin, creating a unique and portable snack that is sure to be a hit with your guests. Not only are these Pizza Snacking Muffins a delicious snack, but they're also incredibly easy to make! Whether you're looking to feed a crowd or just a few friends, this recipe is easy to scale and can be customized to suit your personal taste preferences. So gather your ingredients, preheat your oven, and get ready to score a touchdown with your guests with these delicious and indulgent Pizza Snacking Muffins!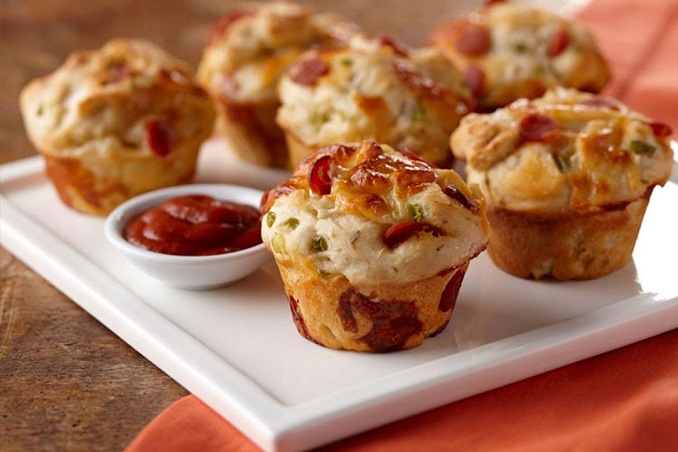 Pizza Snacking Muffins
Ingredients:
● 2-3/4 cups all-purpose flour (OR substitute 1 cup whole wheat flour for 1 cup all-purpose)
● 1 (2-1/4 tsp.) envelope Fleischmann's Quick Rise Yeast
● 2 tablespoons sugar
● 1 teaspoon salt
● 1-1/2 teaspoons leaf oregano
● 1-1/4 cups very warm water (120º to 130ºF)
● 1 tablespoon Mazola Vegetable Oil
● 3/4 cup finely chopped OR mini pepperoni
● 1/4 cup finely chopped green bell pepper
● 1/4 cup finely chopped onion
● 1 cup 1/2-inch cubed mozzarella cheese OR shredded if making minis
For Dipping (Optional):
● Pizza Sauce
Directions:
1. Combine 1-1/2 cups flour, undissolved yeast, sugar, salt and oregano in large mixer bowl.
2. Add water and oil; beat 2 minutes on medium speed.
3. Gradually add remaining 1-1/4 cups flour to make a stiff yet sticky dough. 4. Stir in pepperoni, green bell pepper, onion and cheese.
5. Cover bowl and let rest 10 minutes.
6. Portion dough into 12 (2-1/2 inch) generously greased muffin cups OR 36 mini muffin cups using a scoop or 2 tablespoons (do not use paper liners).
7. Cover and let rise 35 to 45 minutes. Dough will rise, but not double in size. 8. Bake in preheated 375°F oven for 20 to 25 minutes (17 to 20 minutes for minis) until well browned.
9. Let cool on wire rack for 2 minutes.
10. Run a knife around each roll to remove from pan.
11. Serve warm with pizza sauce for dipping, if desired.
12. Refrigerate any leftovers.
*Freezer Instructions:
1. Completely cool muffins and place in an airtight container to freeze.
2. Thaw in the refrigerator.
3. Microwave for 15 to 20 seconds and serve immediately.