Chef Ned Bell has forged a unique path as a chef advocate for healthy oceans and waterways, keynote speaker and educator, and now owner and chef at Naramata Inn. As a Buy BC's Chef Ambassador, he shared with us this delicious Shrimp Roll With Chili Lime Mayo recipe. Enjoy!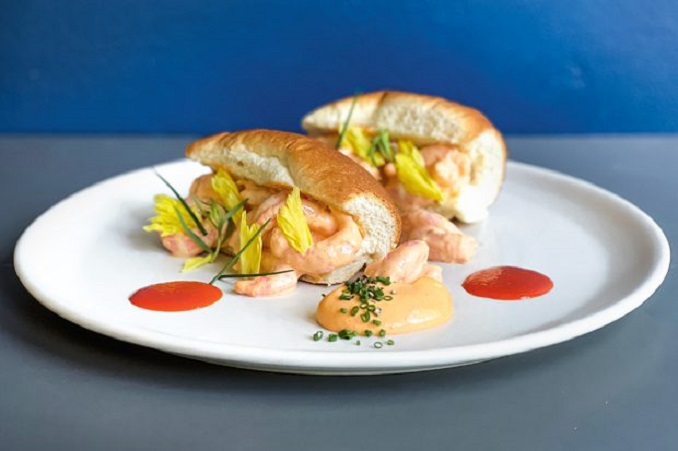 Shrimp Roll With Chili Lime Mayo
Ingredients:
Chili Lime Mayo
– 1 egg
– 1 egg yolk
– Zest and juice of 1 lime
– 1⁄2 tsp salt
– 1⁄2 tsp coarsely ground black pepper
– 1 cup canola oil
– 1–2 tbsp Sriracha
Shrimp Roll
– 4 (1 1⁄2″ thick) slices brioche, or 4 buns (hot dog–style or brioche)
– 2 tbsp unsalted butter, softened
– 1 lb. pink shrimp (cooked and peeled)
– 1⁄2 cup Chili Lime Mayo (see recipe above)
– 1 lime or lemon
– Sea salt and coarsely ground pepper
– Flaked sea salt and
– 2 tbsp chopped fresh chives, for garnish
Directions:
– Make Mayo:
In food processor or blender (or use immersion blender), combine egg, egg yolk, lime zest and juice, and salt and pepper. With machine running, slowly add oil in thin, steady stream.
When mixture is emulsified and thickened, add Sriracha, to taste. Adjust seasoning with more salt, pepper or lime, if desired. Can be made ahead of time; will keep refrigerated for up to 3 days.
– Toast Bread:
Cut bread slices in half crosswise, then partially slice each half so it opens up like hot dog bun. If using buns, slice horizontally but not all the way through.
Heat large skillet over medium-high heat. Spread soft butter on outside of bread and toast in pan, until golden brown and lightly crispy on both sides.
– Assemble Shrimp Roll:
In medium bowl, mix shrimp with Chili Lime Mayo (just enough so shrimp is lightly coated). Squeeze in lime (or lemon) juice and salt and pepper, to taste.
Spoon shrimp mixture into brioche pockets, filling them as much as you can (there's never too much!). Sprinkle on flaked sea salt and chives. Dig in while they're still warm.