At the edge of Martin Luther King Park, right by the Chemin de Côte des Neiges (CDN), a small outdoor exhibition celebrates the contributions of black community members to the neighbourhood. Taken by the photographer Noire Mouliom, the portraits capture tell the stories of those who set the standard for community activism in CDN. Altogether, the collection reflects the richness contained in the neighbourhood, a view into the often invisible but always essential work that makes a community.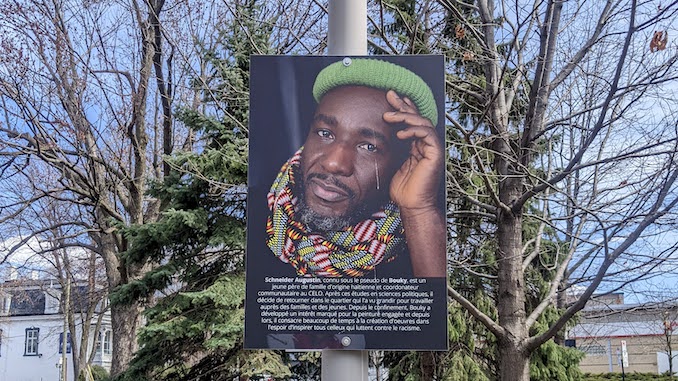 Opened on the 24th of March by the 'Comité de concertation Culturelle' and funded by the 'Ministry of Immigration, Francisation et Intégration de la Ville de Montréal', the twelve portraits hang against the backdrop of laughter coming from the playground behind them. Taken against a deep blue background, each picture has an intimate frame on the faces and expressions of the chosen community members. Some look straight into the camera, straight at you, both a challenge and an invitation. Some look away. And while you might not recognize them personally, it feels like each portrait captures their personality. Looking at the collection of portraits, you come away with a clear impression of the people that create, participate, and maintain the well-being of those who live in Côte des Neiges.
A brief text below each picture tells a succinct version of their story, occupation, and origins, their ties to CDN and their reason for taking an active role in the community. The text describes the multiplicity of ways that we can actively benefit the places we live in: artists, athletes, healthcare workers, social workers, poets and educators. Marie Camille, for example, works with youth in schools to foster an open dialogue on how they can act and think in inclusive, feminist, and intersectional ways. Schneider Augustin (Bouky), is an artist-activist that aims to inspire all those engaged in anti-racism. Meanwhile, Gisele Moluh works as a mediating interface between citizens of CDN and the police.
Altogether, the portraits are a study of the patchwork that makes the fabric of the community, making public that which often remains unseen, underappreciated, and, very often, underfunded. A tiny gem that helps you understand what is making the neighbourhood lively and beautiful, and who is making sure it is. Setting the standard for local and community-driven activism in CDN, the outdoor exhibition serves as both a celebration and inspiration. But most importantly, it is a reminder that we can do more than place a ballot to contribute to the wellbeing of our neighbours and societies, and it invites us to think: what can I do?