Ossa is an electronic music trio that thrives to mix styles and musical influences to create its own unique sound. The music, cultural and ethnic backgrounds of three members of the group – Chinese folklore and Jazz music (Anqi Sun) and electronic music and Arabic culture (Firas Nassri and Nadim Souaid) – give this project a unique, rich, exotic and exciting sound that's difficult to find in today's modern musical landscape.
Ossa was born in 2018, when the China-born, Vancouver-based singer-songwriter Anqi, who recently moved from Vancouver to Montreal, became flatmate for a short while with the Syrian-born Montreal native multi-instrumentalist and music producer Firas. They soon started jamming together, and in September of 2019, they booked their first show as a duo. Lebanese bassist Nadim, who used to do live visuals for the band, joined as the full-time bassist. He added his own musical experience and influences to the blend and another layer of live instrumentation. Since then, they've been busy making new music towards their debut EP Sunflower and played at multiple events including Festival du Nouveau Cinema, Art Matters Festival, and Exposition Collective hosted by CODEM.
With their raw and honest tunes produced with the softest of the heart, the Ossa experience is sometimes comforting, at times heartbreaking, but always catchy and fun! You will find yourself dancing with it while being deeply moved.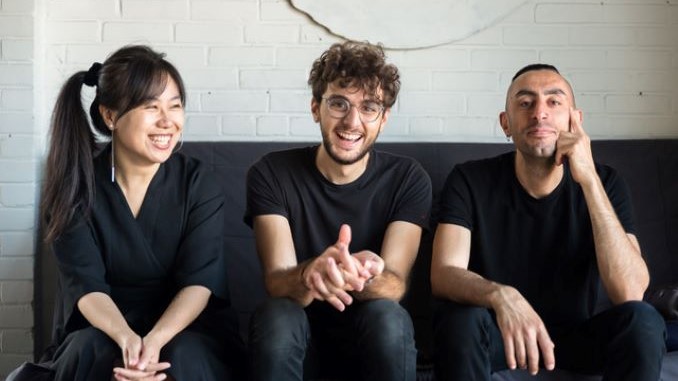 Answers below by vocalist and songwriter of the band Anqi Sun
Name:
Ossa
Genre:
Electronic
Founded:
2018-2019
# of Albums:
Working on finishing our first EP!
Latest Single:
Not Too Far
Latest Video:
Favourite musician growing up:
Jonathan Lee (in my mother tongue Mandarin Chinese), Simon & Garfunkel (first fav band from the west)
Favourite musician now:
Wow impossible to choose just one…I've been listening to a lot of Mitski and Lorde recently.
Guilty pleasure song:
Any Taylor Swift song, although I don't feel guilty anymore and I'm proud to say that I admire her!
Live show ritual:
Rehearse/imagine the entire set in my head before the show, do vocal warm-up while putting on makeup, avoid any caffeine or alcohol the day of the show.
Favourite local musician:
De.Ville
EP or LP?
No preference, as long as the songs are good!
Early bird or night owl?
Night owl who's trying to become an early bird.
Road or studio?
Road
Any shows or albums coming up?
First single, Not Too Far (不远不近) and its music video came out March 18. The single release show was at Diving Bell Social Club on March 17.
Where can we follow you?
***
Rapid Fire Montréal Qs
Favourite local restaurant:
Cuisine AuntDai
Favourite street in your city:
Probably St Laurent Blvd, because I love to spend better half of a day alone or with a friend to walk along St Laurent starting from Old Montreal, through Chinatown, all the way through Plateau, Mile End and end up in Little Italy while going into all the fun stores and snack along the way.
Favourite park in your city:
Parc La Fontaine, a lot of fond memories spent in the park during the summers.
Favourite music venue in your city:
Diese Onze
Favourite music store in your city:
Archambault