Moroccan cuisine is well known for savoury and comforting tajines. Right now is the perfect season to cook some; enjoying it with family and friends. Today, I am sharing with you the classical and authentic Chicken, preserved lemon* and olives' recipe. Easy, quick and super yummy!
-Maha Bensouda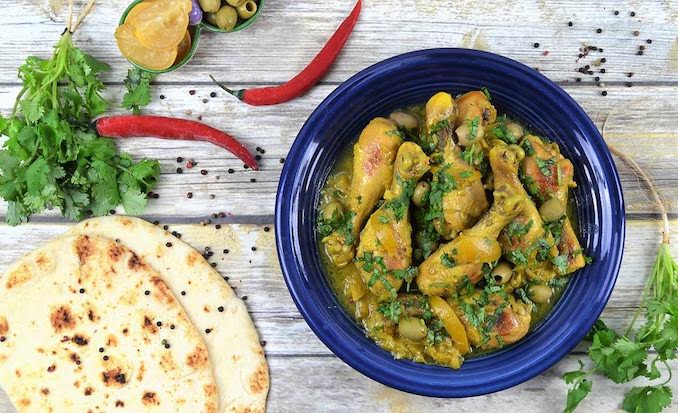 Chicken & Preserved Lemon Tajine
Portions : 4
Cooking Time : 45 min
Ingredients
-4 well cleaned chicken legs
-2 chopped onions
-1 small to medium bunch of coriander (keep some for presentation)
-1 tsp ground ginger
-1/2 teaspoon ground turmeric
-a few saffron pistils infused in 10 ml of hot water
-1 preserved lemon
-7 tbsp olive oil
-A few rinsed green olives (20)
-Salt, pepper
Directions
1. Marinate the chicken thighs with the onions, spices and olive oil, set aside in the fridge for an hour or more. Be careful, salt moderately because the preserved lemon is already very salty!
2. Heat the oil in a pot and add the chicken with the marinade and chopped cilantro
3. Brown everything for a good 5 min on a medium-high heat, cover the poultry with water (about 1 liter and cook covered)
4. Add the infused saffron water and let simmer for 30 min on a medium heat
5. Check the cooking of the chicken regularly, stirring gently from time to time to avoid the meat sticking at the bottom of the pot
6. Add the olives (rinsed beforehand to remove the excess salt)
7. Cut the lemon peel (remove the pulp, keep it to season salads for example) and add it into the pot 5 minutes before serving.
8. Arrange it on a plate and decorate it with chopped cilantro leaves.
Finally, my family trick is serving this dish with French fries on the top to delight young and old.
Also, don't forget a few pieces of fresh bread to enjoy the sauce!
Bon appétit les gourmands! Hope you'll like it!
Maha Bensouda is an expert in Moroccan cuisine in Montreal, trying to bring an authentic experience to foodies to enjoy a real Moroccan moment.
For more info and recipes, follow La Caravane Gourmande on Instagram, Facebook and LinkedIn.