Sandra Dumais lives and works in Montreal, Quebec with her wildly fun family and a polka-dot rescue dog, Indy. When not reading, writing, illustrating and collecting piles of Picture Books and Comics, she can be found on endless walks around the city's many parks and gardens, leaving cups of half finished coffee around her home studio, and at painting class, where she loves to make a huge mess.
She made a comic a day during the first 100 days of the global pandemic called Staying In. The series was featured in an article by the CBC about comic artists documenting their experience during the pandemic. You can read it here.
The last 2 picture books she illustrated won the Prix des Libraires (Booksellers' Choice Award) in Québec, and Farm Crimes! volume 1 was short-listed for the Oy vey! Betty Stuchner Funniest Children's Book award.
You can read her comic book series Farm Crimes! featuring the world's most ridiculous goat detective, Billiam Van Hoof and see her artwork in several picture books including Olivia Wrapped in Vines, Bob le bobo, and the upcoming Fossil Whisperer out this spring.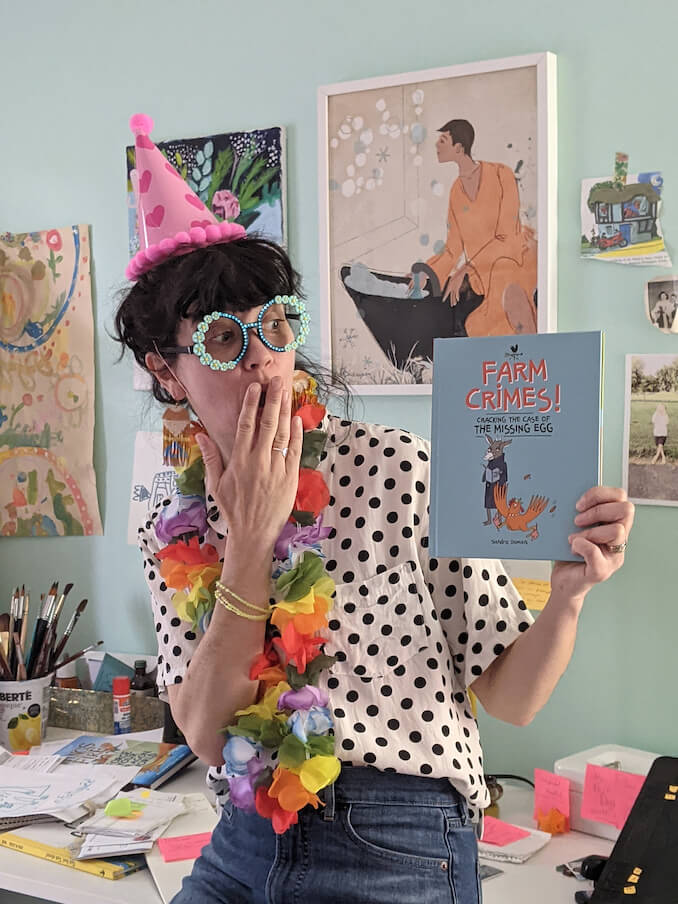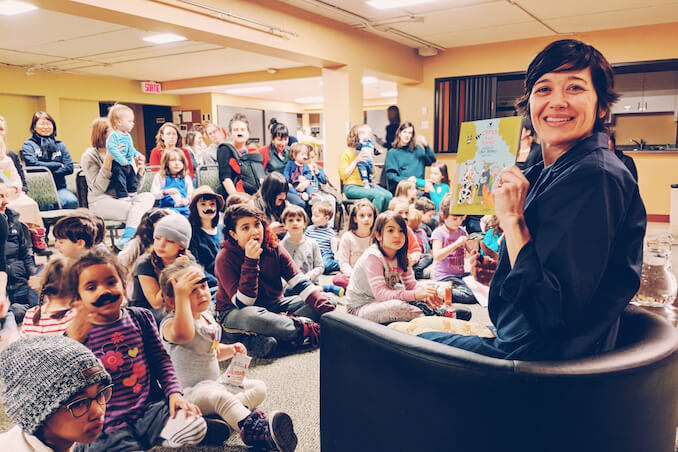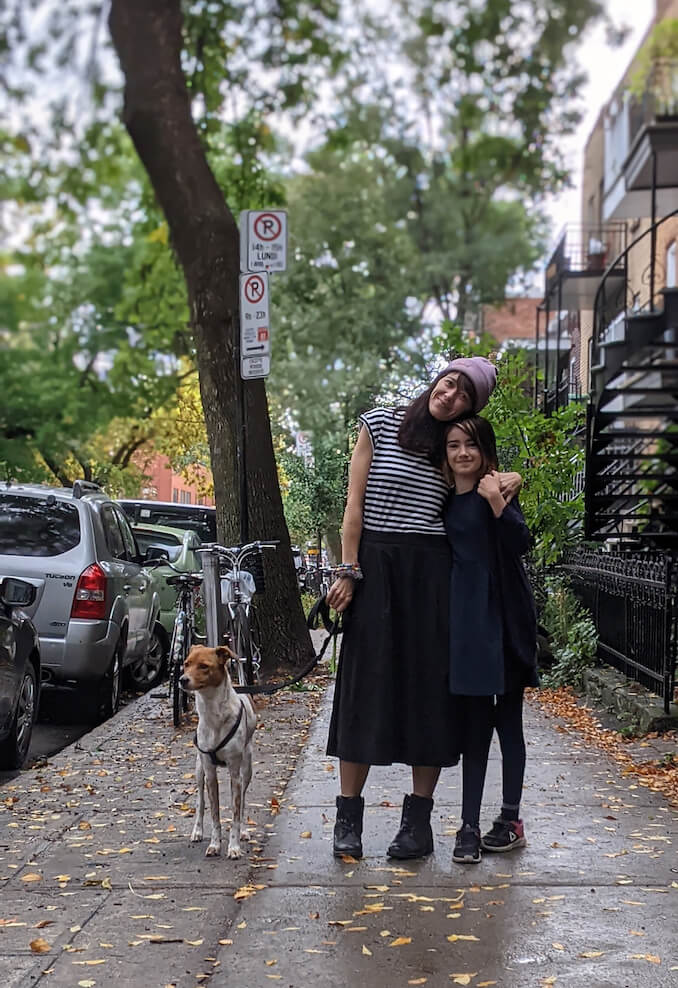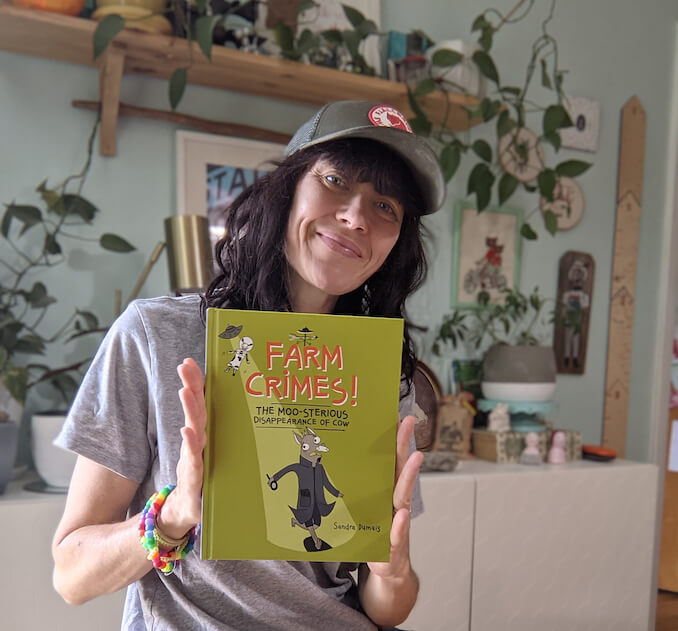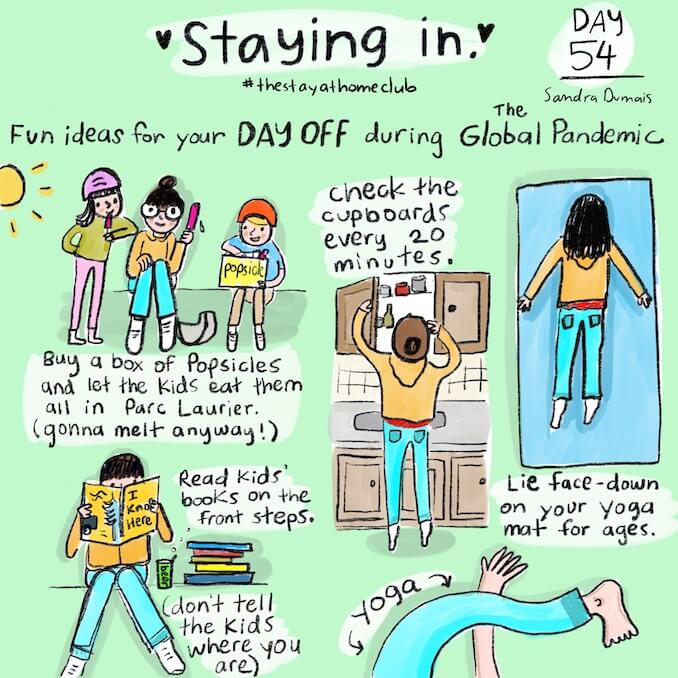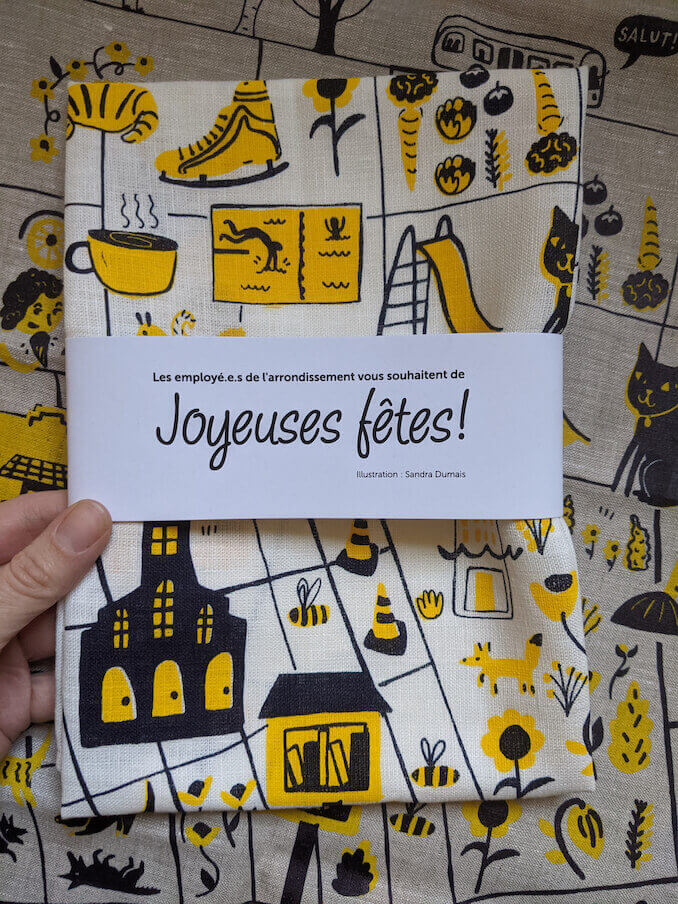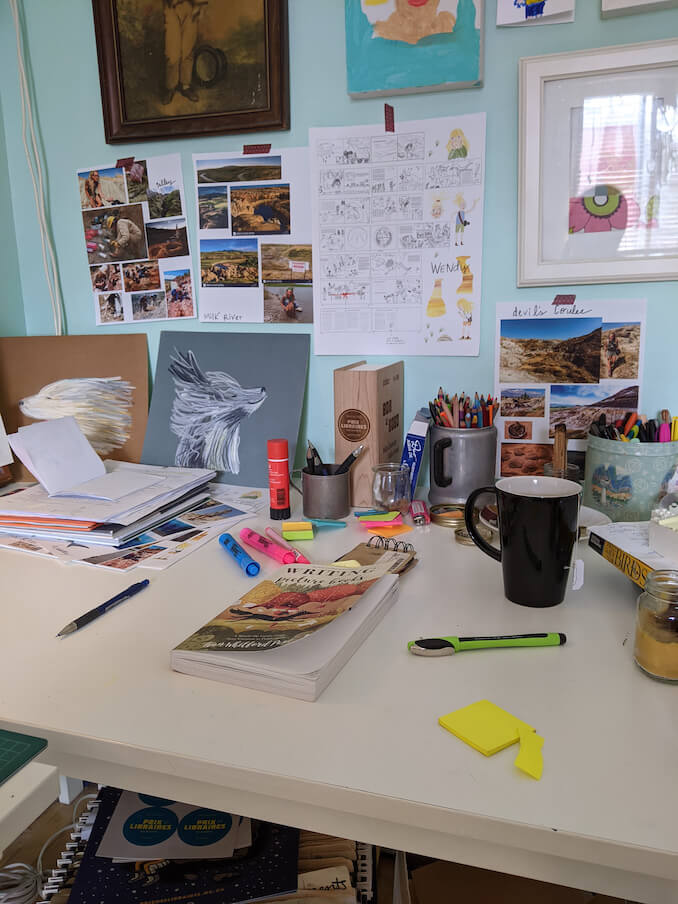 Which 'hood are you in?
Rosemont, in Montreal. Not too far from the Botanical Gardens, where you can often find me. I go for so many long walks that I know everybody in the neighbourhood by name. My husband calls me the Mayor of Rosemont. (I also know every dog and cat in the 'hood by name. It's important!)
What do you do?
I mostly work on writing and illustrating kids' books. I have a comic book series for early readers called Farm Crimes! featuring the world's best / only Goat Detective, Inspector Billiam Van Hoof. It's super ridiculous and fun. I also have some clients that I write / illustrate comics for – I am known for my whimsical maps. A big part of my job as a children's author / illustrator is doing school / library visits and drawing workshops with kids. And then I have an online shop called Moon and Sparrow where I sell prints and stationery. I'll be starting the line of Holiday cards shortly as well! Those are popular and I give $1 from each pack of cards to Dharamsala Animal Rescue. (That's where we adopted our dog Indy, and my daughter and I do some fundraising for them.) I often post comics on Instagram about all kinds of things – my daily life, the hilarity of raising children, life as a highly anxious human, and my love of dogs.
What are you currently working on?
I'm lucky to have lots of fun jobs at the moment. I'm coming off of a year long rush of work, so I'm a bit burnt out and excited to slow down soon. I'm finishing up the illustrations for a Picture Book project (out this spring), and working on the next 2 instalments of Farm Crimes! I am on a school tour next week and preparing for all of those visits. I love drawing with kids, it puts me in such a fun and silly mood. I'm working on the dummy books for my first Picture Books as author / illustrator – that's when you mock up a full picture book to pitch for publication and it's really challenging and fun because you are essentially working on your own. I've got another fun series of comics in the works with a friend of mine who is a psychotherapist. We want to launch it this fall (on Instagram) and it's something I feel really passionate about. I work on lots of projects at once – I wonder if all artists do that? I think probably yes.
Where can we find your work?
Website for Books | Website for Prints and Stationery | Instagram | Staying In (Covid comics)