Locoshop.io is a local shopping marketplace designed to help online shoppers easily find the products they want in the nearest retail locations. We had the chance to catch up with Dan Facciolo, Founder of Locoshop.io, to find out more about what they do.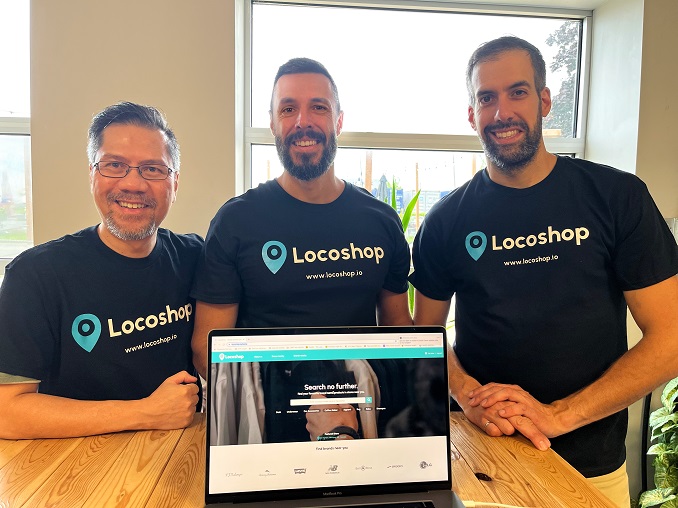 What is your business called and what does it do?
Locoshop.io (www.locoshop.io) is a local shopping marketplace designed to help online shoppers easily find the products they want in the nearest retail locations.
We list products in virtually any category including but not limited to fashion apparel and accessories, footwear, jewellery, consumer electronics, furniture and appliances, home décor, pet supplies, toys and games, books and more.
With Locoshop, shoppers can search products by keyword, by store and by brand and get multiple retail locations that carry them. We always list the retailers in order of distance to the user. The shopper can then choose to buy online from the retailer of their choice or visit the store in person.
What made you want to do this work?
The idea for Locoshop stemmed from my personal frustration, as a shopper, of not being able to easily find local retailers for products I was looking for online. As a consumer, there are some products I prefer to see or try before committing to a purchase and my biggest problem was finding a local retailer on Google.
Every time I Googled a specific product, the search results were filled with sponsored ads and I had to dig too deep in the search results to find a handful of relevant local retailers – this knowing that there were probably dozens in my city and hundreds across the country. I knew there had to be a better way to find 'who sells what' nearby.
In 2020, I decided to leverage my personal and professional experience and go 'all-in' with bringing Locoshop to market with the support of my business partners and my spouse.
What problem did you want to solve with the business?
While the pandemic has forced many stores to adopt e-commerce platforms (i.e Shopify, WooCommerce, Lightspeed, Wix, Square, etc), just existing online is just simply not good enough to get traffic.
1. Google offers many 'free' solutions that end up requiring agency assistance or sponsored ads
2. Traditional local listings websites like Yellowpages and Yelp don't offer product search and open the door open to predatory reviews which are impossible to remove.
3. Doing online ads yourself is very time-consuming and can quickly exhaust your budget if not optimized for the right audience, distribution times and keywords.
4. Using specialized agencies (SEO, online ads, blogging etc) typically cost hundreds, if not thousands of dollars per month.
5. Your competition is ANY website that sells the same product
6. Anyone can outspend you on ads or sem – especially big box retailers.
When it comes to competing online, the odds are simply stacked against smaller retailers.
This is why we wanted to offer a fair and cost-effective solution that would provide them with fair online visibility free of sponsored ads and ranking schemes.
Who are your clientele/demographics?
We service retail stores across Canada that have physical storefront people can visit and also sell online. On the consumer side, our website attracts both domestic and international shoppers looking to buy from authentic retailers.
How does your business make money? How does it work?
Locoshop is free to use for shoppers.
Stores can join for free to list up to 500 products and perform their own updates. Updates only take minutes with compatible e-commerce platforms.
To "keep the lights on" so to speak, we offer a Locoshop Pro plan for $350/year which covers automated monthly product updates performed by Locoshop. We also actively promote our stores through blog Q&A style articles and social media outlets.
To join Locoshop, stores can simply apply at www.locoshop.io/join to submit their basic information and a representative will be in touch to set up their profile and complete the registration. This process usually takes about 1 business day so stores can get up and running very quickly.
We are also actively raising investment capital to help us enhance our platform's indexing and search capability, grow our team as well as increase store and consumer awareness.
Where in Montreal can we find your profession?
Our business is based in Montreal, however, we don't have a physical office just yet.
What is the best question a prospective customer could ask a member of your profession when comparing services? Give the answer as well.
People often think we're crazy to be competing in the online marketplace space. My answer to this is yes we need to be a little "loco" to compete against the online giants but we feel the solution is needed now more than ever.
Having worked in retail stores at a young age, and as a marketer of products sold by specialist retailers throughout my career, I've always appreciated the service and authenticity typically provided by brick-and-mortar retailers – especially independently owned stores.
These experiences are almost impossible to replicate, even on the best online platforms. Since over 70% of product searches now begin on Amazon or Google, we wanted to offer brick-and-mortar stores a marketplace where they can get undivided visibility from local-conscious shoppers free of ads and reviews.
From a technology standpoint, we know our solution is far from being as sophisticated as our giant competitors. We know it will only improve as we grow our following – and our sales.
At the moment, we obviously don't enjoy the traffic that Google or Amazon do, but we offer a fair service that any store can afford to join.
Ultimately, our customers also support us for what the platform represents and for what it is poised to become – the world's biggest local shopping marketplace.
What is the best part about what you do? What is the worst part?
Definitely reach out to store owners across the country first-hand and learn about journeys in the retail business and the current struggles they are facing. This ultimately helps us create a better service.
Of course, there is no better feeling than having customers pay for your solution – even when they know it's new to the market. This really put the wind in our sails and motivates us to push forward.
On the flip side, given that we are relatively new and unknown in this space, and not backed by millions, overcoming the lack of awareness and establishing trust is our greatest challenge. There are many local shopping marketplaces out there and stores are heavily solicited so they eventually become de-sensitized to these types of solutions.
What is your favourite joke about your own profession?
We often get references to "David" as in David VS Goliath. Goliath is Google and Amazon. But we're not trying to fight Goliath – we just want to be a great alternative to them.
What are your social media channels?
Website | LinkedIn | Instagram | Facebook
PAY IT FORWARD: What is another Montreal business that you love?
Montreal is a great place to shop. We're lucky to have many resilient local retailers offering clients great product selection, innovative shopping experiences and excellent service which is perhaps the most important of all. It's really difficult to choose just one.
On the e-commerce side, Montreal is also the home of Lightspeed – a global e-commerce success story – and a company we admire for being largely responsible for removing barriers between online and offline retail for many local retailers – not only in Montreal but across the globe.