Sophie Sucrée is a Montreal Vegan Bakery offering delicious treats that found inspiration by the owners' grandmother Sophie. We spoke with Milène Laoun, Chef, Owner and Founder to learn more.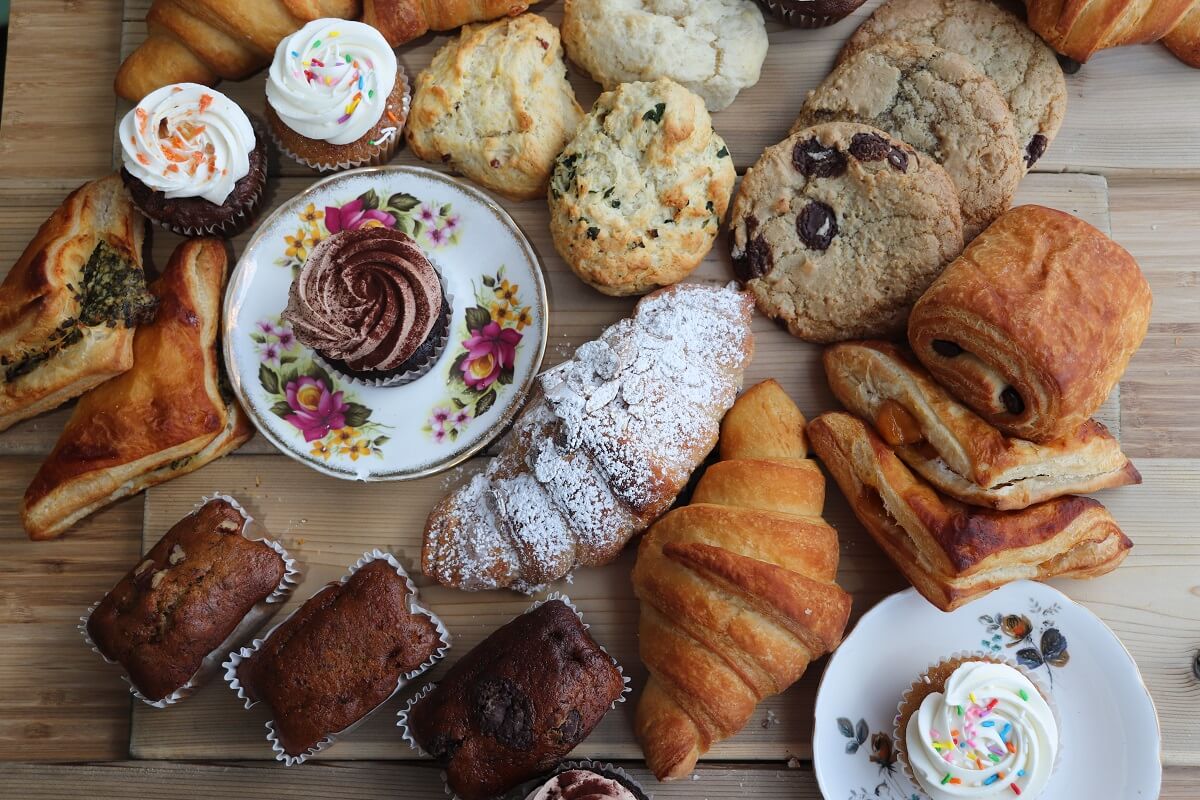 What is your business called and what does it do?
Sophie Sucrée is an all-vegan bakery focusing on handcrafting nostalgic baked goods. We named the bakery after my late grandmother Sophie, who was a self-taught baker and showed her love for us through food and baking. We make people feel good with the tastiest treats that reflect our values and ethics 🙂
What made you want to do this work?
We started this dream ten years ago exactly. Back then the vegan scene in Montreal was seriously lacking great options, especially baked goods. It was impossible to find vegan cakes let alone fine French pastries such as croissants that were vegan. I loved baking and had already a small cake atelier that I then pivoted to an all-vegan bakery, veganizing all the classic baked goods we grew up eating but also challenged myself to veganize technical French pastries.
What problem did you want to solve with the business?
We wanted to not only fill the gap for vegan food but really get people curious about plant-based alternatives and blow them away with how delicious and indulgent they can be. Especially ten years ago, the narrative around vegan food was that it was bland and couldn't compare to its non-vegan counterparts. We wanted to create food that was delicious and that people would be proud to share with their loved ones whatever the occasion. We didn't want vegans missing out on their favourite treats, and we wanted non-vegans to fall in love with our baking.
Who are your clientele/demographics?
We get lots of different folks! Being on the main street- literally- we are located on Saint Laurent Boulevard (aka La Main) We love our regulars who live and work in the neighbourhood, it's lovely getting to know the people around us and making those connections. Many of our regular clients who order with us are looking for cakes for birthday parties, or pastries for their brunch or party spread. We love it when offices buy pastries from us for their employees. It makes us so happy to think of our pastries brightening someone's day at work.
Our demographics according to our digital outlets are mostly millennials who are passionate about food aligning with their values. We only use plant-based ingredients, but what's more, we use local mostly organic high quality ingredients and we make everything from scratch, making sure not to cut corners in order to create the most delicious and sustainable products as possible. We try to source eco-friendly packaging, use sustainable practices in the kitchen, and never throw away food! We are big believers in diverting food waste, and we have multiple initiatives that ensure we never throw out any pastries. We sell surprise boxes on Uber of surplus pastries, we are a toogoodtogo partner where people can buy boxes of food from the day before. We also sell our pastries from the day before in our boutique at a reduced cost, and we also love to donate extra baking whenever possible.
How does your business make money? How does it work?
Every day our bakers wake up early and start rolling dough and baking away! Then our lovely customer service team opens the boutique and we sell our baked goods every day. We mostly rely on our clients visiting our boutique. We sell our full menu of pastries, cakes, and classic baked goods fresh every day. Clients can also make pre-orders on our website and have their treats delivered or picked up. Our menu is also available for on-demand food ordering on ubereats & doordash.
Where in the city can we find your profession?
Montreal is such a gourmand city! There are pastry chefs and bakeries everywhere! We are so happy to be a part of that as an all-vegan bakery. You can find us on Saint-Laurent Boulevard at the corner of Des Pins Avenue near both Sherbrooke and Saint Laurent metro stations.
What is the best question a prospective customer could ask a member of your profession when comparing services? Give the answer as well.
Definitely, "How did you make this?" One of the biggest questions we get is how did you make a croissant without butter? A cake without eggs? We love explaining our process as our methods and ingredients set us apart from traditional baking.
Not only is veganizing a fascinating world of food science, it is also a labour of love and we want people to know just how much effort our team puts into our products. In many ways we make our croissants the traditional way, laminating dough, rolling it, proofing it, baking it etc. However, we use a butter that we make from scratch that we have made to not only taste delicious but to have the same melting point as dairy butter and to melt and react in baking the same way. We use an egg wash we make ourselves to impart flavour and colour.
What is the best part about what you do? What is the worst part?
Definitely the people and all the connections we make. Getting to know our clients and hearing their amazing feedback is so heartwarming. Whether it's someone who has been getting their birthday cake with us for a decade, or a tourist visiting Montreal who is beaming with joy as they walk into a bakery that is 100% vegan for the first time. Hearing their experiences, and getting to know what our food means to them is honestly the best.
The worst part would probably be all the small logistics that can go wrong with running a small business; whether it's a supplier who is back-ordered and we need to scramble to source the ingredient, or a piece of equipment is no longer working properly – there is always something going on! But we roll with the punches, and we have an amazing team that cares about their work and is always willing and flexible to find solutions to our problems.
What is your favourite joke about your own profession?
We eat cake for breakfast!
Where can we follow you?
Check us out on Facebook or Instagram. We post lots of cool content on what we have going on in the shop and we love reading and replying to comments. You can also head on over to our website for more info about us and to see our menu and place an order.
PAY IT FORWARD: What is another local business that you love?
Ohh so many!! we love our amazing neighbours Maynard, who make the most delicious vegan casse-croute style food. Their tofu Nashville is incredible! Sushi Momo is a classic go-to for the best sushi in town! They are located right by us too. We are also big big fans of our fellow vegan bakers Cafe dei Campi. They make the most delicious Italian-inspired baked goods, it is a must!