Ometz is a registered Canadian charity and Jewish human services agency. We spoke with the CEO of this organization, Dominique McCaughey, to learn more.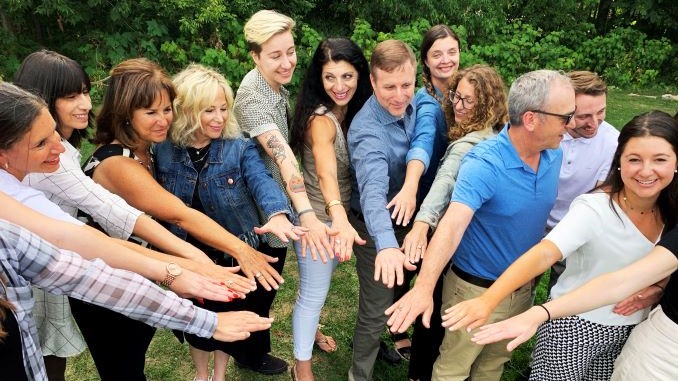 Describe your charity/non-profit in a few sentences.
Ometz is a Jewish human services agency offering social, employment and immigration services to help people fulfill their potential and to secure the growth and vibrancy of the Montreal community. We have been active for over 155 years. Today, we reach more than 13,000 people annually, providing intervention, prevention, support services and programs to enhance our client's quality of life and help them fulfill their full potential. Ometz, the Hebrew word for courage, reflects the courage of those who seek our support in transforming their lives.
What problem does it aim to solve?
Our mission is to deliver accessible, confidential, personalized and culturally sensitive services based on Jewish values. Whether supporting a family in crisis, individuals living with mental health issues, students struggling at school, or newcomers to Montreal, our clients are better equipped to cope with life's challenges because we work together as a community.
When did you start/join it?
I became CEO right after the pandemic hit, on April 1, 2020. However, my history with Ometz actually goes back many years before that. Ometz, as we know it today, was created in April 2008 — the merger of Jewish Employment Montreal (JEM), Jewish Family Services (JFS) and Jewish Immigration Aid Services (JIAS). I worked at JFS when I was a graduate student and again during law school. When the merger occurred, I sat on the board of Ometz. Then, from 2015 to 2020, I was Ometz's Chief Strategy and Development Officer. So while I am new as CEO, I'm deeply steeped in the Ometz tradition, and the various roles I've had in the organization at different times in its history give me a useful insight and perspective on the work we're doing today.
What made you want to get involved?
There are many amazing community organizations in Montreal that do phenomenal work, but Ometz is unique in providing a single point of entry for so many different resources, programs and services that impact a huge range of ages and populations. Our holistic approach means that if there is a Jewish family who has just immigrated to Canada, for instance, we can not only provide settlement and integration assistance, we can help the parents find jobs, and we can provide academic and psychosocial support for the children. As CEO, leading a diverse group of professionals (clinicians in a variety of fields, employment specialists, immigration specialists) who all share the same core values is stimulating and rewarding. No two days are the same.
What was the situation like when you started?
COVID required pivoting, but that's part of our DNA; Ometz is a very nimble organization that has learned to adapt quickly to changing circumstances. We switched to remote work and began delivering what were always assumed to be in-person services (like psychosocial support) by phone or through digital platforms. Our clients and staff alike were experiencing significant distress and it was quite intense. But even at the height of the pandemic, we never interrupted a day of service.
Despite all the turmoil, we were able to launch two new initiatives during my first year as CEO: clinque entourfamille and L'Annexe. clinique entourfamille is there to do just that: encircle the family and child with specialized, multi-disciplinary services that are accessible, and greatly enhance children's potential. It supports school-aged children and their families by providing guidance and solutions around developmental, social and academic growth. L'Annexe is Ometz's centre for young adults, which has its own state-of-the-art space, with programs and services that cater specifically to the 16-35 demographic. Now that we are able to meet in person again, people can drop by for an art class or a group therapy session or just to hang out. Seeing how important the centre has already become to so many young people – who are craving a sense of community and stability during these difficult times – has been a dream come true.
How has it changed since?
COVID didn't change what we do, but it clarified our sense of purpose. Our work touches on many of the most pressing issues in society today: mental health, learning and academic success, the challenge of navigating uncertain times for our youth and young adults, employment and – particularly in light of the humanitarian crisis in Ukraine – immigration. Many of the things we're focused on behind the scenes for years are now of broader interest, and we're finding ourselves uniquely positioned to share information and resources. By pivoting to digital platforms to reach our clients virtually as well as in-person, we've expanded the way we deliver services to make them as relevant to the widest range of people as possible.
What more needs to be done?
We want to keep expanding our reach while deepening our programs. Mental health needs, in particular, are skyrocketing, especially among children and young adults. The range of issues and intensity of caseloads have increased across the board, even as (like all nonprofits during the pandemic) we've had to tighten our belts and figure out how to do more with less. As the needs in our community continue to grow, we need more resources (including more professionals) to keep up.
How can our readers help?
Readers can help by making a gift to Ometz. We are also always looking for qualified professionals and for new volunteers!
Do you have any events coming up?
You can follow us on Facebook, Instagram and LinkedIn to see all our upcoming programs and events.
Where can we follow you?
Facebook | Instagram | LinkedIn
PAY IT FORWARD: What is an awesome local charity that you love?
The Cummings Centre is a sister organization to Ometz, providing many of the same services as we do, but for seniors. They also offer all kinds of activities to keep people physically and mentally stimulated as they get older, like painting, yoga, support groups, lectures and films. It is a wonderful organization with caring professionals and volunteers.