The English-Language Arts Network (ELAN) is a non-profit organization that provides opportunities and supports for anglophone artists and cultural workers in Quebec. Their goal is to connect English speakers of all art disciplines with resources and community, in the hopes of fortifying social diversity in Quebec's art landscape. We spoke with the executive director, Vanessa Herrick, to find out more about ELAN in action.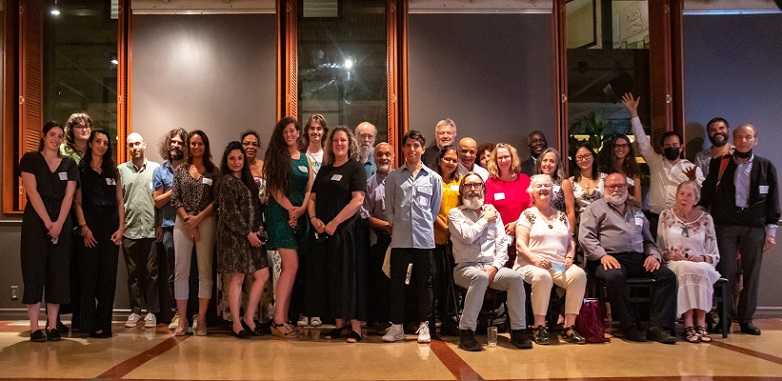 Describe your charity/non-profit/volunteer work in a few sentences.
The English-Language Arts Network (ELAN) is a not-for-profit organization that connects, supports, and creates opportunities for Quebec's English-speaking artists and arts communities. ELAN members are individuals and organizations from a wide array of artistic disciplines, cultural and geographic backgrounds, and linguistic and cultural communities. Together our network reflects an evolving Québec identity and celebrates the province's cultural, artistic, and social diversity. Through social events like our Schmoozers, workshops, grant-writing and funding assistance, and our various projects, we seek to create opportunities, connect folks, and support members in their pursuits.
What problem does it aim to solve?
Working in the arts as an artist or organization isn't always easy – especially for those working in the minority language. The English Language Arts Network (ELAN) connects artists, cultural workers, and arts organizations from all disciplines and regions of Quebec, fostering a strong community for members.
We promote the vitality of Quebec's English-speaking artistic community and support its members with direct services and benefits, as well as through mobilization and representation.
ELAN makes common cause with the French-speaking cultural community to champion the multifaceted benefits of culture, and the interests of cultural workers. ELAN encourages an evolving Quebec identity that includes artistic, cultural, and social diversity.
When did you start/join it?
I started at ELAN in February of 2022.
What made you want to get involved?
I have long believed in the power of the arts to keep a community and individuals strong and resilient. After COVID 19 some sectors of our society, such as youth and seniors, were struggling badly and I wanted to work with artists to ensure their understanding of the power of creativity to support mental health could be shared far and wide.
What was the situation like when you started?
Covid 19 and the lockdowns have done extensive damage and resulted in permanent changes to the arts and culture community in Quebec. People who were able to support themselves as working artists suddenly couldn't, and now that we are slowly coming back to enjoy the arts, many have left the field permanently for more reliable work. But it isn't all bad. The move to bring arts online has allowed for global audiences to enjoy performances they never would have before, and online experiences mean that those who can't leave their home are now included. There is still a tension as to how the arts can survive fiscally in a digital world but those are the questions we are working together to answer.
How has it changed since?
In the past year, ELAN has continued a lot of our work in advocating for the English-language arts community in light of different government proposals. We have also launched some new projects to address the needs that are most pressing to community members today. For example, in the fall of 2022, we helped launch the Community Digital Arts Hub (CDAH). CDAH is a studio in Montreal that offers artists/arts & heritage organizations affordable, high-quality studio space and equipment rentals, suitable for photo, live-streaming, video, sound recording and post-production.
CDAH also offers technical support to assist in producing professional quality work, and training opportunities for artists/organizations of all disciplines to build their own digital production capacity. This project is a great example of a practical resource that helps our community members to develop their skills, access important resources, and bring their projects to life.
What more needs to be done?
We need to continue to support the arts and artists. We also need to push our leaders to protect and focus on encouraging the arts while we consider how much the arts have supported us through recent years. I know that Netflix and online content saved a lot of people during lockdown!
How can our readers help?
Consume local art! One of the great pleasures of working at ELAN is seeing all of the amazing things that are being created and presented in Quebec's art community. One great way of supporting the arts is to go see a show, buy local art, and to dive into the creative community. As well, you can join ELAN! Whether you join as an artist, an organization, or a friend of ELAN, you can join us in really helping this community shine.
Do you have any events coming up?
The Community Digital Arts Hub has a series of free workshops covering topics like digital photography, archiving, and sound recording. You can see all of their events here: CDAH – Community Digital Arts Hub.
ELAN has regular events supporting artists and organizations with skill-building and accessing services like grant-writing advice, legal advice or financial counselling. We also have a February Schmoozer coming up which is a chance for people to socialize in the community. You can stay up to date on all of our workshops here: Upcoming Events – ELAN.
Where can we follow you?
Website | Instagram | Facebook
PAY IT FORWARD: What is an awesome local community organization you love?
We have two amazing sibling organizations -The Quebec Writers Federation and the Quebec Drama Federation who focus on those fields of practice and provide amazing information and support to artists – check them out!