The Refugee Centre is a Montreal non-profit focusing on providing support and assistance to refugees who have found asylum in Canada. Together with volunteers, they offer an array of services to help such as legal aid, language classes and many more. We spoke with Abdulla Daoud, Executive Director of the Refugee Centre, to learn more.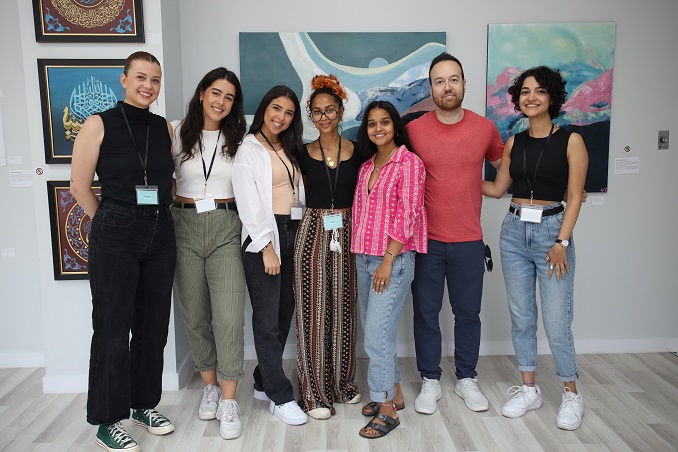 Describe your charity/non-profit/volunteer work in a few sentences.
The Refugee Centre is a nonprofit organization based in Montreal, Quebec dedicated to providing essential support and assistance to refugees who have sought refuge in Canada. The centre serves as a vital resource hub, offering a wide range of services to help refugees rebuild their lives and integrate into their new community. These services include legal aid, language classes, physical and mental health support, financial literacy and entrepreneurship support as well as any other support that contributes to the ability for newcomers to thrive here in Canada.
What problem does it aim to solve?
At the heart of The Refugee Centre, we hold a unique vision: that one day, our services will no longer be needed. We diligently work to fill in the missing pieces in Canada's systems for welcoming and supporting refugees. Our ultimate hope is for a future where these gaps have been fully addressed by government programs that provide all-encompassing support to refugees directly.
Moreover, we aspire towards a world where no one is forced to abandon their homeland due to fear or danger. Although the reality of achieving this seems distant, it does not deter us from striving tirelessly. Our mission, in essence, is a testament to our commitment in a better, more inclusive society here in Canada.
When did you start/join it?
I, alongside some of my colleagues, founded The Refugee Centre in 2015 in response to the Syrian refugee crisis.
What made you want to get involved?
Born out of my own personal journey as a refugee, I felt a compelling drive to shape a world where refugees embrace and uplift fellow refugees as they step onto Canadian soil. My team and I, seasoned by our shared experiences, could distinctly identify the existing voids in the system. Inspired by the memories of our own paths, we worked together to rectify these omissions, ensuring a brighter, more inclusive future. Especially now, our determination grows even stronger and is driven by the unwavering belief that every gap we close today, makes tomorrow's journey for the refugees we serve more bearable.
What was the situation like when you started? How has it changed since? What more needs to be done?
Regrettably, the worldwide displacement crisis has only intensified since our journey began, bringing with it a surge of individuals seeking safety from persecution. Although our mission was born amidst the Syrian crisis, we were initially focused on challenges facing a much smaller number of individuals than what we are seeing today.
Currently, the scale of displacement is escalating, thus we are calling for our united commitment both domestically in Canada and Internationally. Canada seems to be doing the opposite with its policy directives and what we just witnessed with the Safe Third Country agreement being expanded. The underlying premise of seeking asylum in the first country of safety encountered is fundamentally defective. It helps create an inequitable burden on neighbouring nations, while simultaneously neglecting the collective, global moral responsibility incumbent upon us all to safeguard and uplift the most vulnerable among us. This framework profoundly undermines the spirit of international collaboration and solidarity, resulting in an unfair distribution of duties. This can cause the system to fail and increase the suffering of those seeking asylum.
Instead, our focus should pivot toward a more balanced resolution that focuses on the necessity for a unified, transnational approach to navigate the challenges associated with forced displacement. Canada should champion a global sense of shared accountability; in doing so, we can build a more equitable, enduring system reflective of our joint commitment to the principles of human rights and dignity. Without this collective effort, the entire asylum system is at risk of falling apart.
How can our readers help?
For individuals who are interested in supporting The Refugee Centre and our clients, we encourage you to donate to our Pay It Forward Fund. This fund, hosted by our charity wing The Innovation Institute, helps provide newcomers with financial support for their urgent basic needs. These urgent basic needs can be defined as any needs required to access basic human rights services such as education, health, housing, food and more. 100% of the money donated goes towards our clients in need.
Those interested can donate here.
Thank you so much in advance for helping us to support our clients!
Where can we follow you?
Website | Instagram | Twitter | TikTok
PAY IT FORWARD: What is an awesome local charity that you love?
We really admire Foyer du Monde. They are one of our community partners and they work hard to provide a warm and safe living environment for newcomers and other individuals at risk of homelessness.