Banx & Ranx have surged to the forefront of popular music both behind-the-scenes as producers and in the spotlight as artists. Tallying over 2 billion streams worldwide and over 1 billion YouTube views, the Latin GRAMMY® Award-nominated Montréal duo—Zacharie "Soké" Raymond and Yannick "KNY Factory" Rastogi—attribute their success to their collaborative style in the studio and their talent for infusing their signature ECM (Electronic Caribbean Music) sound. From the moment they became an artistic duo in 2014, their chemistry ignited the career-changing experiences of producing, co-writing and collaborating with international megastars such as Dua Lipa, Blackpink, J Balvin, Ty Dolla $ign, Sia, David Guetta, Shenseea, Ellie Goulding, Sean Paul, Diplo, Major Lazer, Gorillaz and many more established artists. Multifaceted globally successful producers, songwriters and artists, Banx & Ranx have partnered with Universal Music Canada for the next chapter of their careers with the joint focus of nourishing and amplifying Canadian talent.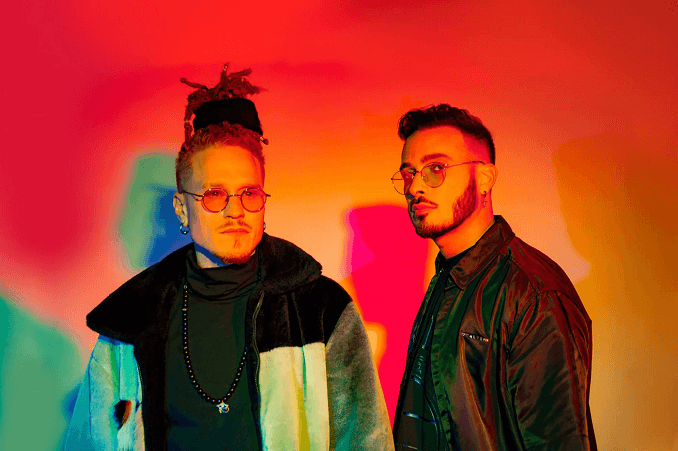 Name:
Banx & Ranx
Genre:
ECM (Electronic Caribbean Music)
Founded:
2014
# of Albums:
We're in the studio making music so often and we like how quickly dropping singles can get our music out there so that's what we've stuck to! But we're open to the idea of releasing an album, we'll see what next year brings!
Latest Single:
Latest Video:
Favourite musician growing up:
Jamiroquai, Bob Marley, Sean Paul, Michael Jackson
Favourite musician now:
Drake, Labrinth, Justin Bieber, The Weeknd, Post Malone, Doja Cat, Dua Lipa, Becky Hill, Adele, Sia
Guilty pleasure song:
"Dynamite" – Taio Cruz, "I Gotta Feeling" – Black Eyed Peas, "Kulikitaka Ti" – Merengue Latin Band
Live show ritual:
Before shows we chill and stretch, maybe take a little shot, and then afterwards we celebrate with our entourage with a nice meal and some drinks.
Favourite local musician:
Montréal is full of talent, there are so many! Zach Zoya, Mont Duamel, Chiiild, Alicia Creti, Loud, La Zarra, Rêve, Benny Adam
EP or LP?
EP because you can group songs together that fit into the same universe
Early bird or night owl?
We're both different but we balance each other out really well. Yannick has a clear mind in the morning and still loves nights out and Soké likes to work from 11 pm until 3, 4, and 5 am – that's his magic zone.
Road or studio?
In recording studios on the road!
Any shows or albums coming up?
We'll be performing in Mississauga for New Year's Eve
Where can we follow you?
Website | YouTube | TikTok | Instagram | Twitter | Facebook
***
Rapid Fire Montréal Qs
Favourite local restaurant:
Soké: Kesté / Yannick: Booang
Favourite street in your city:
Sainte-Catherine – it has so many great stores (including Steve's Music!) and the Old Port because of all of the great food and bars
Favourite park in your city:
Yannick: Parc La Fontaine / Soké: Parc Mont Royal
Favourite music venue in your city:
We go to M Telus and Bell Centre the most – we've seen many good shows there!
Favourite music store in your city: