L.Teez is a Jazz-Rap Author and Performer. First trained in the trombone and the trumpet, he began writing authentic and personal texts in 2012. L.Teez launched his first project in 2018, The Half Full EP, and in early 2020, he signed a record deal with the new Montreal label Hydrophonik Records, supporting the promotion and distribution of his second EP, The Index to My Inner Thoughts. On October 14, 2022, he released his debut album, Studio Blue. We spoke with him to find out more about his influences and projects.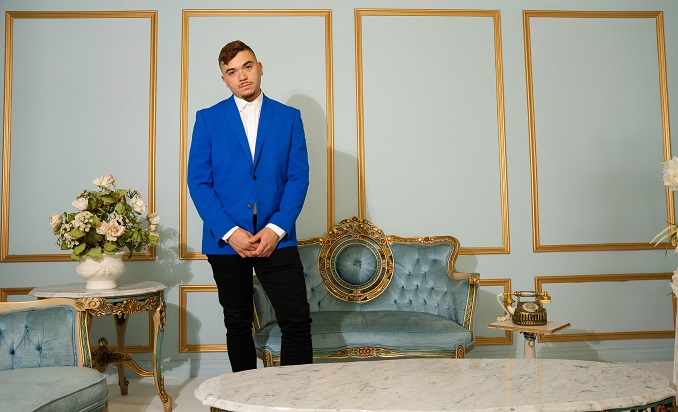 Name:
L.Teez
Genre:
Jazz-Rap
Founded:
At birth. October 16, 1996
# of Albums:
1 LP, 2 EPs
Latest Album:
Latest Single:
Never Thought' feat. Clerel
Latest Video:
Favourite musician growing up:
Lupe Fiasco, Jay-Z, Nas, Kendrick Lamar, Miles Davis, Jimi Hendrix
Favourite musician now:
Jorja Smith, H.E.R., Brittany Howard, Mick Jenkins, Robert Glasper, Westside Boogie.
Guilty pleasure song:
I've got two, Nickelback's How You Remind Me and Alicia Keys's' If I Ain't Got You, which should be one of everyone's guilty pleasures.
Live show ritual:
I like to take a little walk outside the venue I'm performing just before my set and listen to Drake's song Emotionless and recite the whole song to get pumped. for the show!
Favourite local musician:
Kaytranada
EP or LP?
It depends, EP for fast but effective music. LP for well-thought-out concepts and cohesive music.
Early bird or night owl?
Night owl, I've been working in the restaurant and nightclub industry since the tender age of 18. Night is life.
Road or studio?
I love the studio, but nothing can compare to being on the road with your band discovering new cultures, food and going out after your shows.
Any shows or albums coming up? 
My first-ever album, Studio Blue, was 2 years in the making and is finally out in the world.
Where can we follow you? 
Facebook | Instagram | Twitter
***
Rapid Fire Montréal Qs
Favourite local restaurant:
Dobe & Andy and Vin Papillon.
What is your favourite street in your city and why?
Duluth, reminds me of Europe and has some great restaurants & bars.
What is your favourite park in your city and why?
Mont Royal, I've lived by the footsteps of the park for over 20 years. I've played soccer there since I was a little boy. I've had amazing dates there, jam sessions and open mics. I've done everything and nothing at all there. Mont Royal has been my home for over two decades and it has become an integral part of my being.
What is your favourite music venue in your city?
Petit Campus, same stage but big sound and a big stage.
What is your favourite music store in your city?
I'm not too big on gear but I do love records. Aux 33 Tours is my favourite record store in the city, what an amazing collection.