Elizabeth Shepherd has been hailed as "a jazz virtuoso blessed with a pop sensibility", praised by critics worldwide for her arrestingly original writing and soulful delivery. Alongside Esperanza Spalding and Robert Glasper, she is among the new wave of jazz-influenced musicians bringing the art form to a younger generation of music fans. The five-time JUNO nominee (Canada's GRAMMY Awards) and two-time Polaris-Prize nominee has released seven widely acclaimed records, featuring collaborations with such musicians as Lionel Loueke (of Herbie Hancock group) and UK producer Nostalgia 7. She has toured extensively in North America, Europe, Japan and Mexico, and has shared the stage with such great diverse acts as Christian MacBride, Branford Marsalis, Spankie Wilson, Victor Wooten, the Quantic Soul Orchestra and Bonobo. She was also personally invited to open for Jamie Cullum at a sold-out Hollywood Bowl show. A classical pianist who came to jazz through her love of old-school hip-hop, it's perhaps no surprise that this globetrotting talent has developed such a distinct and unique voice.
After years of touring together, decorated Canadian artists Elizabeth Shepherd and Michael Occhipinti have now teamed up to create ES:MO – a musical duo focused on genreless creativity and exploration. With extensive musical backgrounds, international acclaim, and a lengthy list of prestigious awards and nominations, namely, their combined fifteen Juno nominations, both artists have had successful, independent careers before embarking on their new venture. Having now teamed up to create an album of re-imagined musical works including one original song, the duo have just released their debut full-length album, "The Weight of Hope" (Modica Music).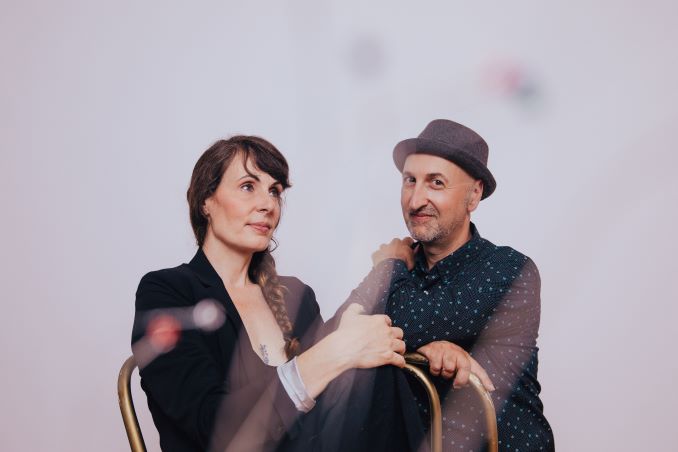 Name:
Elizabeth Shepherd, one half of ES:MO (Toronto-based guitarist Michael Occhipinti being the other half)
Genre:
Electro soul-jazz
Founded:
2005
# of Albums:
9 (counting my very first Indie release!)
Latest Album:
"The Weight of Hope", by ES:MO (Elizabeth Shepherd and Michael Occhipinti)
Latest Single:
'Any Other Way'
Latest Video:
Favourite musician growing up:
Beethoven. Then The Beatles (when I discovered them), The Roots and Stevie Wonder.
Favourite musician now:
Anyone who makes music that moves me. Recently I've been listening to a lot of Willie Dunn.
Guilty pleasure song:
Most anything by George Michael. Or 'Benny and the Jets' by Elton John.
Live show ritual:
Facetiming my kids beforehand from the green room.
Favourite local musician:
Cédric Dind-Lavoie
EP or LP?
LP definitely. Vinyl. My husband restores vintage audio gear and I love the depth of sound of good vinyl. It's like a warm sweater on a winter day.
Early bird or night owl?
Proud night owl, since 1991
Road or studio?
These days, studio. It's an absolute playground, and I get to sleep in my own bed at the end of the day. Even though we've been so deprived of live music, and it's such balm for the soul to hear live music again, I have to say that in these late-pandemic days, touring still feels a little uncertain and tentative.
Any shows or albums coming up?
We're touring our new album, "The Weight of Hope".
Where can we follow you?
ES:MO Facebook | Instagram | Facebook
***
Rapid Fire Montréal Qs
Favourite local restaurant:
I live outside Val David, in the Laurentians, so really, my favourite local restaurant is La Boucaneries du Nord. But my favourite Montreal resto is the hidden gem Ajit Palace in Verdunb, from when I lived there.
Favourite street in your city:
Rue de l'Eglise in Val David (the main drag, littered with artist/artisan spaces), or else (Montreal) Boul Lasalle because there's a massive expansion of public access to the river.
Favourite park in your city:
Mont Kaaikop (where I live), or Parc Lafontaine – it's a little taste of Europe (I came of age in Paris).
Favourite music venue in your city:
Theatre Marais in Val Morin / Diese Onze in Montreal.
Favourite music store in your city:
La Rama (vinyl shop)