Chaos has never looked so balanced. Algerian-Canadian artist Jade Above is certainly a name that you will remember. Student of the Seventh Art, he discovered his passion for creativity while pursuing Film Studies at the Ahuntsic College in Montreal. Delivered through his epic lens and his 3 octaves tenor range, his haunting and poetic laments are certain to accompany you, wherever you are. Embracing the darkness to bring out the light, this night owl's self-produced music will make you reflect on all the meanings of being a vulnerable individual. Transgressive yet accessible, he vows to explore and understand the darkest areas of your brain, while still providing you with the relief of hope's rare, healing and light kiss. Let it be clear: there's nothing quite ordinary about Jade Above. Thus, be prepared to look above and beyond.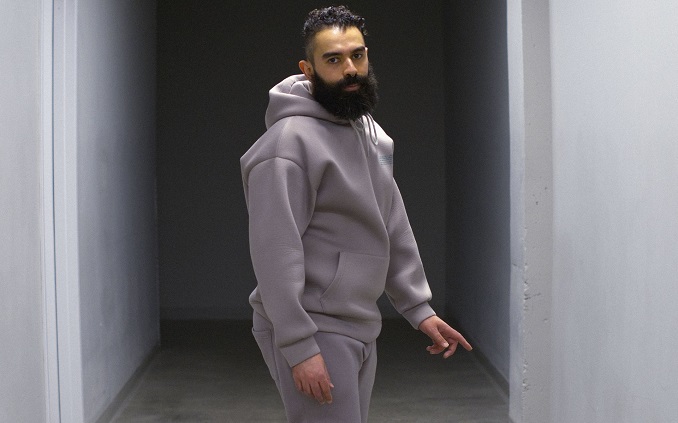 Name:
Jade Above
Genre:
Pop/Alternative with some R&B, cinematic and R&B flavours.
Founded:
I started making music in 2009, but I'd say Jade Above was born officially in 2015-2016.
# of Albums:
No LPs yet, but one EP under my belt and two other EPs coming out before the end of the year. I'm a bit intense like that.
Latest Album:
I haven't recorded an LP yet, but my latest EP was entitled Loops. It came out in January 2019.
Latest Single:
My last single was released in February 2021. It's entitled Jaded and it's about the insidious effects of toxic masculinity.
Latest Video:
Favourite musician growing up:
I'm a big fan of pop performers, but none of them really captured my creativity quite as Shakira did. I was really enamoured by her songwriting, especially in Spanish, her ability to produce incredibly catchy songs, and her unique ability to move on a stage. Absolutely legendary. Also, I used to follow religiously Christina Aguilera, Beyoncé, Justin Timberlake and Britney Spears. I'm still pretty a big fan of Beyoncé.
Favourite musician now:
I'm a big fan of Christine and The Queens. I think they have an incredible sense of romanticism, and they have a unique ability to craft music and visuals.
Guilty pleasure song:
I really have a thing for 90s pop, and I'm just obsessed with Bye Bye Bye by N'SYNC. The vocal production is insane.
Live show ritual:
I'm a pretty anxious person, and I haven't performed yet as Jade Above. However, I did start to think about things I'd probably do before a show. It would include vocal warm-ups, muscle stretches, and watching an episode of American Dad. It's my safe space (I love Roger Smith).
Favourite local musician:
Maryze. I think she has an incredible voice, and great songwriting chops too. She also has this unique ability to draw you in. Honestly, I'm pretty sure at this point she is a magical being. Additionally, I do have a thing for the incredible talent that Backxwash is. It's hard to ignore the magnitude of her talent.
EP or LP?
LP. I honestly can't wait to release one, and I hope 2023 will be the year of the LP for Jade Above.
Early bird or night owl?
Definitely, a nighthawk that wakes up early. It's a pretty self-destructive loop, but somehow, I manage it. 🙂
Road or studio?
I really enjoy the comfort of the studio, but I'm definitely starting to crave the touring life.
Any shows or albums coming up?
I released a short film performance entitled LO/OPS – THE PERFORMANCE on August 19, directed by Eli Jean Tahchi, along with an EP with the same name that will feature all tracks performed plus a bonus track sung entirely in French. Then, this Fall, I have another EP coming out with completely new tracks.
Where can we follow you?
Instagram | Facebook | Twitter
***
Rapid Fire Montréal Qs
Favourite local restaurant:
The pandemic made me a bit of a hermit, and I have to admit that I haven't been in restaurants as much as before. I did fall in love with Chef on Call, during that time. If you haven't tried it yet, I'm so glad I could change your life.
Favourite street in your city:
I don't have a particular street on which I like to walk or pass by, but I live in Villeray, and I enjoy taking long walks around the blocks here. The people that you cross are always pleasant, there's so much life around you and greenery. The backstreets are just so beautiful.
Favourite park in your city:
Maisonneuve Park. It's a little bit far from my place, but I love taking my bike and riding there.
Favourite music venue in your city:
Possibly the outside stage on Place-des-Arts. It's either that or the MTelus. They're both on my bucket list.
Favourite music store in your city:
I usually buy my equipment from Red One Studio, but I do like Steve's Music Store on Ste-Catherine. They're super sweet!