Sophie Ogilvie is a singer and songwriter based in Montréal, Quebec. Approaching songwriting with the confessional lyricism folk and an indie rock penchant for pop song structures, Ogilvie's sound is set apart by her deft command of the voice. Ogilvie and Steward first collaborated in dream pop band Helen Paradise, releasing an EP, External World, in 2021. Around the same time, Ogilvie began writing songs that felt distinct from that project, experimenting at home with guitar tunings and production techniques. Trained in classical and jazz voice and experienced in choral arrangement, Ogilvie here becomes her own choir, piling up layers of vibrato until they take on an almost otherworldly quality, adding a shimmering depth to her sound.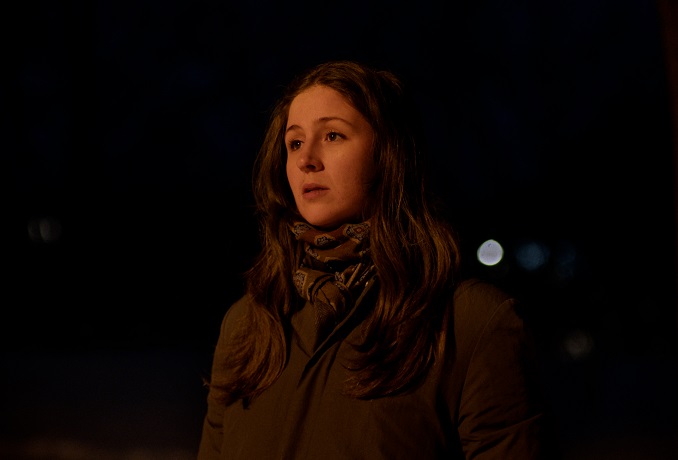 Name:
Sophie Ogilvie
Genre:
Existing somewhere in the country to the electropop spectrum…Let's call it indie rock, hey?
Founded:
2023
Latest Album:
My debut EP, Coming Up, Crocus, comes out October 6, 2023
Latest Single:
New Friend
Latest Video:
Favourite musician growing up:
Talking Heads, Belle and Sebastian, and Feist
Favourite musician now:
Björk, Elliot Smith, and Feist
Guilty pleasure song:
I try not to let my pleasures get guilty, if I like it I like it. I get excited dancing or running to 'Edge of Glory' by Lady Gaga.
Live show ritual:
Ideally matzo ball soup and a Campari and soda, more often whatever's around and a beer
Favourite local musician:
Every day there is a new amazing band or artist I'm discovering in Montreal, but my dear friends Bodywash are always my favourite.
EP or LP?
LP in one long listen.
Early bird or night owl?
Early bird, I go to bed dreaming of that first sip of coffee
Road or studio?
Studio
Any shows or albums coming up?
Crocus comes out on October 6 and I am playing a release show on October 7 at Casa del Popolo as part of Tiny Fest.
Where can we follow you?
***
Rapid Fire Local Questions:
What is your favourite local restaurant?
Nouilles de Lan Zhou
What is your favourite street in your city and why?
Boyer, lots of people have nice flower boxes and I love the bike path.
What is your favourite park in your city and why?
Probably Jarry – beautiful fountain, lots of families, every bit of the park is always being utilized
What is your favourite music venue in your city?
La Sala Rosa
What is your favourite music store in your city?
Diplomate