Terouz found his sound by curating his original songs with his taste for 90s nostalgia and 70s & 80s electro-pop/rock elements, while creatively utilizing his resonant and nuanced "Bowie-esque" waver for both lead and backing vocal savours.
"Hypno-noir '' he calls it, a cinematic, muscular sound imbued with wickedly erotic sensations, rife with intensity yet soothing with its pacing.
His first single "Outstanding" (2019) has been deemed one of the year's best songs by California's Rawckus magazine.
"Outstanding" is better than excellent, entering the rarified realm of superlatives. This is one of the best tracks of the year, sexy, powerful, and inspiring." -Rawckus magazine.
Along with his co-producer, mix engineer and keyboardist Gabriel Ethier (Garou, Azam Ali, Niaz) Terouz' manages to carefully craft his songs into intimate capsules, where one is intoxicatingly swayed into contending as the lead in his cinematic stories of inner and outer struggles.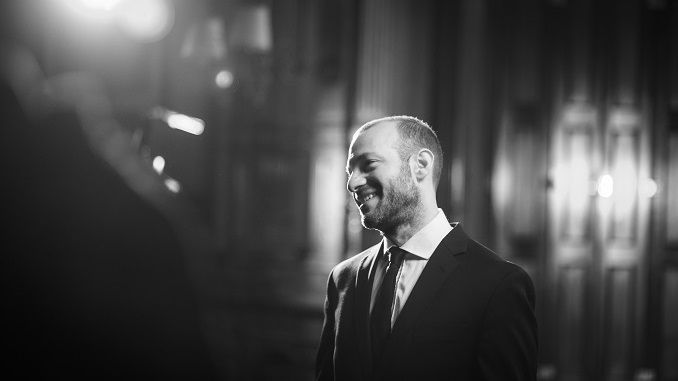 Name:
TEROUZ
Genre:
Retro Pop, Electro Pop, New Wave, SynthWave
Founded:
2019
# of Albums:
4 singles from 2019 to 2023 as TEROUZ, 2 albums from 2013 to 2017 as The Rising Few (folk rock)
Latest Single:
Latest Video:
Favourite musician growing up:
Bruce Springsteen
Favourite musician now:
Bruce Springsteen + Editors
Guilty pleasure song:
A Groovy kind of love (Phil Collins)
Live show ritual:
One hour run on the Mont-Royal while singing to Editors, Kings of Leon and Bruce on the morning of the show, it freaks out other runners but hey, you gotta warm up them vocal chords.
Favourite local musician:
Two words, Shane Murphy
EP or LP?
EP, It's what coming next from me by September 2023
Early bird or night owl?
Both due to side job as head Barman at Bar George
Road or studio?
Road, I have done nothing but studio in these past 4 years.
Any shows or albums coming up?
My debut live show will be ready in June but meanwhile, my online store is starting to fill up with all my original illustrations based on excerpts of my songs.
One can also follow the artistic process on my Instagram stories!
Where can we follow you?
Instagram | Spotify | Youtube | Facebook | Soundcloud | TikTok | iTunes
***
Rapid Fire Montréal Qs
What is your favourite local restaurant?
Bar George for appetizers and drinks, Bocadillo for the deluxe burger on the patio, and Ferreira for the fish of the day.
What is your favourite street in your city and why?
Esplanade in the Plateau of Mont-Royal, the street is inhabited by mostly creatives in the Canadian film industry and art scene.
It's also right in front of the Jean Mance tennis and soccer courts as well as the big hill itself, The Mont-Royal, which is my "go to" location for jogs, walks and picnic dates.
What is your favourite park in your city and why?
Parc La Fontaine,
What is your favourite music venue in your city?
I must say Le Ministère is the first place I want to debute my live act
What is your favourite music store in your city?
Moog on Saint-Laurent, I never leave it empty-handed.