Earls shared with us this Croque Madame recipe from Dawn Doucette. Another case of elevating the potentially ordinary. Check out the roasted serrano sauce!

Croque Madame
Makes 4 Sandwiches
Ingredients:
12 oz (350 g) thinly shaved Virginia ham 8 slices sourdough bread
1 oz (28 g or 2 tbsp/30 mL) room-temperature butter
4 oz (115 g) white cheddar, shredded 4 poached eggs
Roasted serrano cream sauce (recipe follows)
1 tbsp (15 mL) finely chopped chives
Directions:
1. Heat the ham in the microwave for 45 seconds or until just warm. This will ensure a thoroughly hot sandwich and cheese that melts nicely.
2. Spread the butter over one side of the sourdough bread. Flip the bread so that the buttered side is facing down.
3. Arrange the bread so that you have two rows.
4. Evenly distribute the shredded cheese over the sandwich bottoms and top with the heated ham, making sure there is even coverage. Close the sandwiches.
5. Place the sandwiches on a preheated griddle or nonstick pan. Cook until golden brown on the first side, approximately 3 minutes.
6. Flip and continue cooking until the second side is also golden brown and the cheese is fully melted.
7. Transfer each sandwich to a plate and top with a poached egg. Pour about ½ cup (125 mL) of roasted serrano cream sauce over the egg and the sandwich.
8. Garnish with some chives. Serve immediately.
Roasted Serrano Cream Sauce
Ingredients:
1 serrano pepper, whole
2½ cups (600 mL) heavy cream
2 oz (57 g) grated Parmesan cheese 2 oz (57 g) shredded white cheddar
½ tsp (2.5 mL) fine salt
Directions:
1. Place the whole serrano pepper on a foil-lined tray and roast under a broiler until the outside is charred and the pepper is soft. This will take approximately 10 minutes.
2. Immediately place in a sealed container to allow the skin to loosen from the flesh. Once the pepper is cool enough to handle, peel off the skin and remove the stem and seeds. Chop the flesh roughly and place in a pot along with the cream.
3. Bring to a low simmer and continue simmering until reduced to about 2 cups (500 mL). Strain through a sieve and discard the peppers.
4. Return the reduced cream to the same pot and bring back to a simmer. Add the Parmesan and white cheddar, stirring constantly until the cheeses are fully melted, approximately 3 minutes.
5. Sir in the salt and remove from heat. Strain through the sieve again to ensure a smooth consistency.
6. Keep warm before serving.
***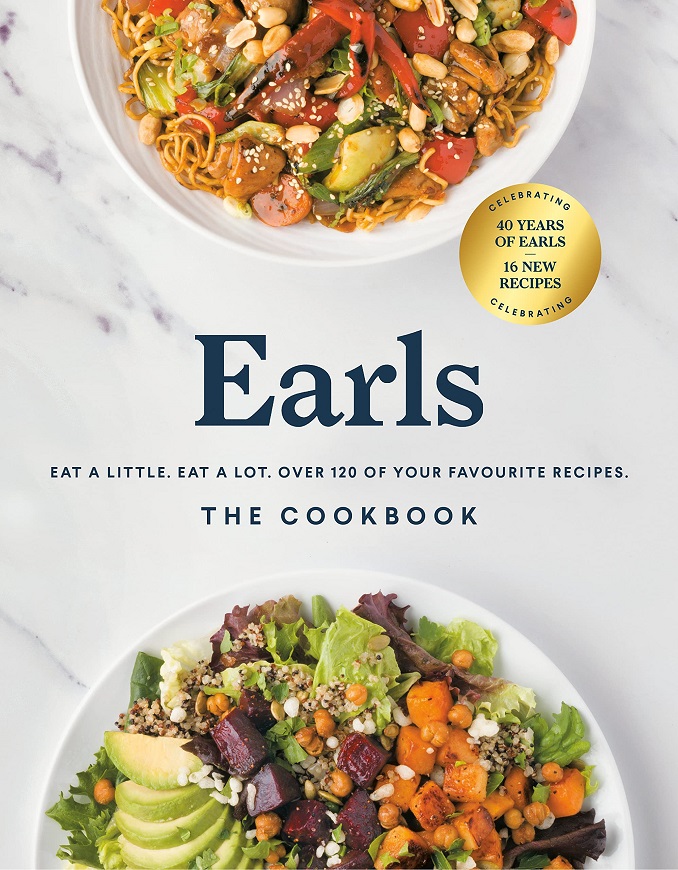 The Earls 40th Anniversary Commemorative Cookbook offers over 120 beloved Earls recipes spanning across food and beverage to keep you prepared for every holiday occasion. New to hosting, interested in picking up culinary as a hobby or simply gifting that special chef in your life? You've found the perfect gift.