Born in Montreal, NAIIM (@naiimsounds) is a Canadian-Somali Hip-Hop and R&B artist reshaping the sound of his genre. At a very young age, he was surrounded by sounds from old Hip Hop tapes to French folk music, including Édith Piaf.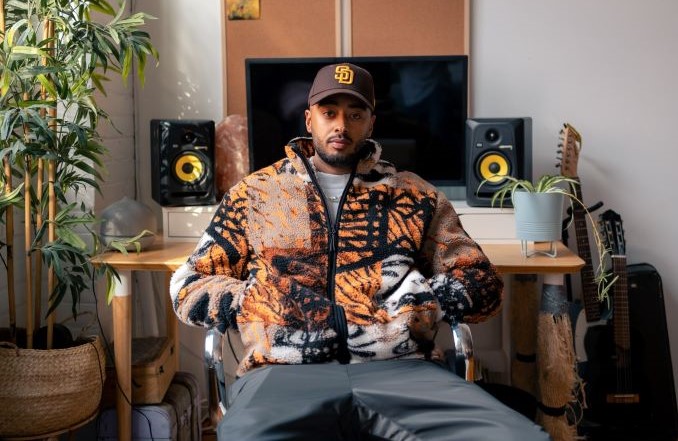 At 13 he'd find himself visiting his local HMV store to listen to various artists. Immediately after he'd become quite curious about making music of his own. Quickly discovering his love for writing and producing his own tracks.
In the present day, NAIIM doesn't find himself comparing his sound to any artist. Stating that he wants to bring something unique, as it will pay off in the long run.
Over the past two years, he has stepped away from the scene to work on both himself and creating new music. His debut single "Dusty Winds" off of his new EP was released this past Friday. It embodies the feel of the wild west mixed into the Hip Hop and R&B scene.
We got the chance to speak to NAIIM about what this single means to him as he breaks back into the industry with his defined sound.
What inspired you to create your upcoming EP "It Goes Without Saying".
"For the past two years, I've been recording a collection of songs – some of the best work I've ever done. It got to the point where I amassed so many songs that I was like we need to do a project. I took the songs that I felt fit the best together and it's a body of work that says it goes without saying. That we're coming in and we're here to stay. It has the come-up motivating type of sound."
What is your favourite lyric from "Dusty Winds"?
"Literally the opening line "To keep the peace I gotta meditate." There are so many bars in that song that I really love, because they really pertain to the headspace that I am in currently. But that opening line really means alot to me and it's my favourite one because I've struggled with mental health in the past. I was a very different human being about two years ago. Through rigorous meditation and therapy I think that it's really helped me free myself from the intrusive thoughts that I used to have."
In what way has Canada and our artists helped shape your career?
"In two aspects I'd say. First of all, the belief aspect. Before them, it always felt like a far fetched dream. Everyone who really makes it was from the states. Drake, Justin Bieber, Tory Lanez, Alessia Cara. Seeing these artists make it is super motivating. It makes me feel like I can do this as well.
Since they've paved a way for us, when I go down to LA they have a newfound respect for us in a sense. When we get into studio sessions, myself or other Canadians, they say that we've never heard of anything like that. They always say that we have something special. There was so much talent brewed up in Canada, that the second the floodgates opened – it popped. We have so much to show the world."
What inspired the western concept of the track? Especially within the music video
"What ended up happening was that my producer Shaz, who lives up in Ottawa, was going through samples and he pulled that one up. I was like we have to do something with that. It wasn't something like – oh let's make something western inspired. It just kind of fell in our laps. The visuals are western inspired because of that initial sample in the song. We were in LA for the entire last summer and we thought, what better place is there to film this than in the desert?"
NAIIM finished off by saying that he's half Somali and half French Canadian. "I really want to represent my people. Especially in the Somali community, I don't feel like there's enough of us doing this. I'm really proud of it."
NAIIM and his team are planning to roll out the EP over the next few months. His future as an artist is very promising and without a doubt he will represent the Canadian music industry prestigiously for the rest of his career.