Within the Italian-based slow food movement, porchetta occupies a special place as one of the most classic and delicious yet labour-intensive dishes. A deboned pork loin is arranged with layers of herb stuffing, fat and skin, and then rolled and spit-roasted, traditionally over wood. The porchetta ham called for here is a lightly cured version (for which someone else has already done the work) that can be found in Italian markets and delis. As for the name, Cuban sandwiches combining pork and cheese are common in places like Miami, and time spent there opening Earl´s Dadeland location gave Dawn Doucette the inspiration for this sandwich. She countered the sweetness of the porchetta with our sourdough bread, which balances the dish and distances our version from the Florida norm.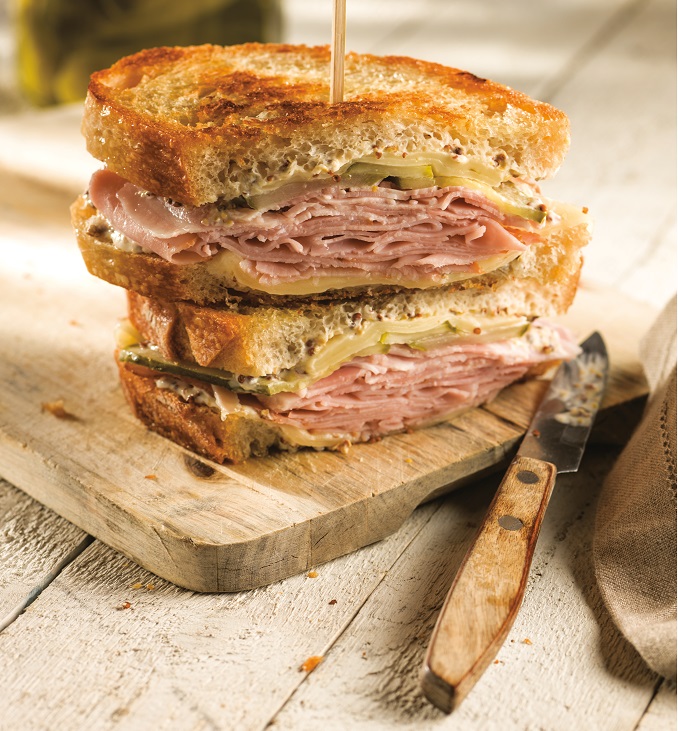 Cubano Sandwhich
Makes 4 Sandwiches
Ingredients:
8 oz (225 g) thinly sliced Virginia ham
8 oz (225 g) thinly sliced porchetta ham 1 oz (28 g or 2 tbsp/30 mL) butter
8 slices sourdough bread
¼ cup (60 mL) mayonnaise
2 tbsp (30 mL) Dijon mustard
4 oz (115 g) thinly sliced Swiss cheese 8 slices dill pickle
Directions:
1. Heat the Virginia and porchetta ham in the microwave for 45 seconds or until just warm. This will ensure a thoroughly hot sandwich and cheese that melts nicely.
2. Spread the butter over one side of the sourdough bread. Flip the bread so that the buttered side is facing down.
3. Arrange the bread so that you have crowns on the top row and heels on the bottom row.
4. Spread 1 tablespoon (15 mL) of mayonnaise on each crown and ½ tablespoon (7.5 mL) of mustard on each heel.
5. Evenly distribute the sliced cheese over the heels and top with the heated ham, making sure there is even coverage.
6. Place two pickles over each crown and close the sandwiches.
7. Place the sandwiches on a preheated griddle or nonstick pan. Cook until golden brown on the first side, approximately 3 minutes.
8. Flip and continue cooking until the second side is also golden brown and the cheese is fully melted.
9. Transfer each sandwich to a plate and serve immediately.
***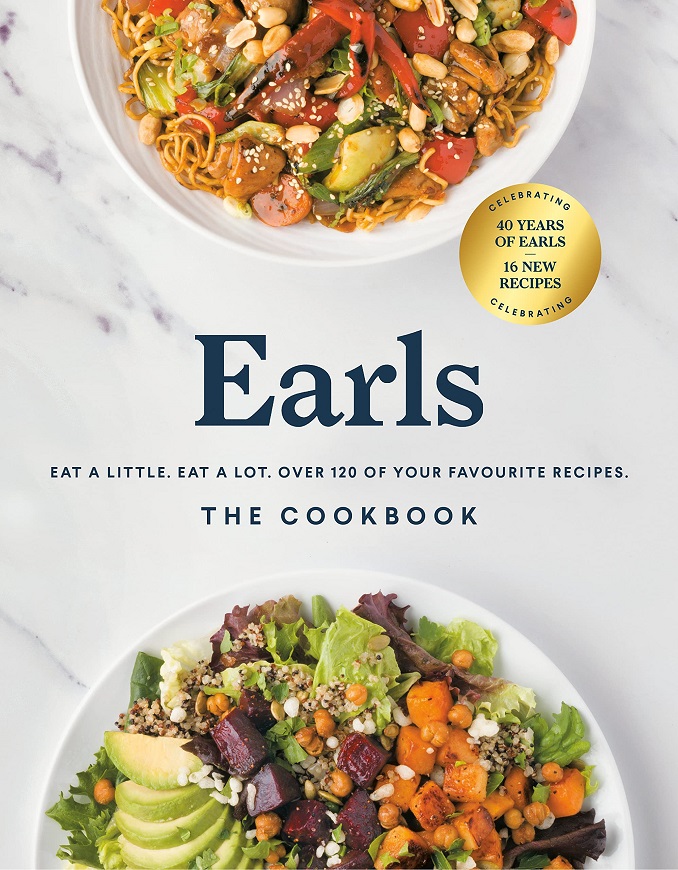 The Earls 40th Anniversary Commemorative Cookbook offers over 120 beloved Earls recipes spanning across food and beverage to keep you prepared for every holiday occasion. New to hosting, interested in picking up culinary as a hobby or simply gifting that special chef in your life? You've found the perfect gift.