Welcome Collective is an organization whose core mission is to mobilize Montreal's local community to provide immediate help to the city's newly arrived refugee claimants. We spoke with them to find out more about what they do.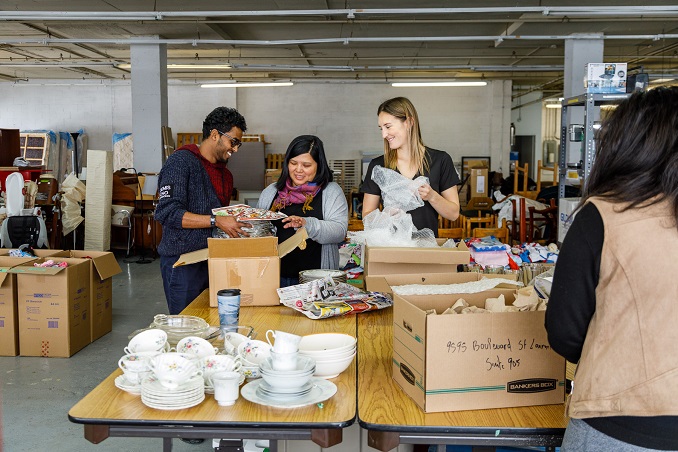 Describe your charity/non-profit/volunteer work in a few sentences.
Our mission is to reduce the stress and isolation of resettlement by providing material and psychosocial support to newly arrived refugee claimants and other newcomers with precarious immigration statuses in Montreal. We serve families with multiple children, single mothers, women with pregnancies and newborns, and people with disabilities or mental health challenges.
What problem does it aim to solve?
Newcomers with precarious immigration status experience extreme levels of poverty and social exclusion due to racial, economic, cultural, and linguistic discriminatory practices, in addition to dealing with ongoing migratory trauma. Welcome Collective helps address these issues by ensuring that newcomers have their basic material needs met, are accompanied in their settlement process, and have access to essential community and social services.
When did you start/join it?
Welcome Collective began as a pilot project in December 2017, as the number of refugee claimants arriving in Quebec reached a record 25,500 claims in 2017 alone. This new reality led many local organizations, as well as provincial and federal entities, to create expanded systems to legally process refugee claimants, shelter them for the first few weeks after their arrival, and help them find apartments. However, the capacity and scope of these systems left huge gaps. In response to this need, a group of residents began Welcome Collective to crowd-source basic necessities that refugee claimant families desperately sought.
What made you want to get involved?
The first Welcome Collective volunteers met newly arrived families who had found apartments, but were sleeping on the floor and didn't have basic kitchen supplies or warm winter clothes. They decided to harness the power of social networks to try to help 20 families be able to "eat, sleep, and keep warm" in one month. This goal was surpassed when this small group of Montrealers helped 60 refugee claimant families! We concluded that if Welcome Collective provided clear pathways, locals would be eager and willing to help refugee claimants.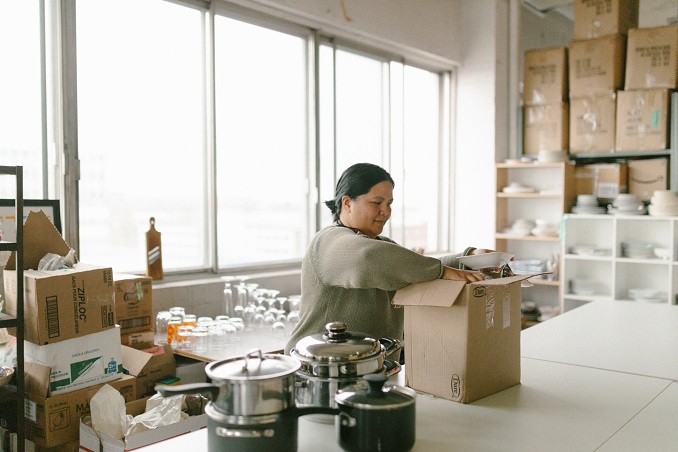 What was the situation like when you started?
Things have changed a lot since the early days! We used to use a small self-storage space and just one van. There were also fewer resources for refugee claimants, and less general knowledge about their specific needs. We became a registered non-profit in 2018 and we have continued to work with several thousand volunteers and donors who have given furniture, driven trucks to pick-up and drop-off furniture, and helped orient and settle over 6,000 newly-arrived refugee claimants.
How has it changed since?
Welcome Collective has experienced incredible growth in the past 5 years thanks to our incredible community. Today, Welcome Collective has a 12,000 square foot warehouse and a cube truck which are used to pick up, sort, store, and deliver donations from across the city.
Volunteers help us sort items in the warehouse, and also to provide social support and help finding services to families. We have also developed a really efficient system to automate parts of our logistics operation.
This past year, over 50,000 individuals arrived in Quebec seeking asylum, twice as many as we saw in 2017. These families continue to need vital support at all levels of their settlement –material, legal, and social.
What more needs to be done?
Worldwide, the number of displaced people has reached an unprecedented 100 million individuals. As a result of global conflict and political insecurity, Quebec has also seen a record number of refugee claimant arrivals. As citizens of a safe country, we have a responsibility to open the door to those fleeing persecution.
The federal and provincial governments have a responsibility to provide sufficient financial assistance to community services to respond to the growing needs of the refugee claimant population. In the long term, an assessment by the federal and provincial governments needs to be undertaken to understand the long-term impact and adaptations needed to integrate what will certainly be a growing refugee population in our city.
How can our readers help?
You can give your gently used household items, furniture, winter clothing, and more to newly arrived refugee claimant families. Simply submit a donation offer on our website, for pick-up or drop-off. Many community organizations are mobilizing to serve the needs of refugee claimants. Support your local organization with a financial donation or by volunteering a few hours a week. Share their calls for donations or volunteers on social media. It's also really impactful to contact your local MNA or MPs when petitions are set out on issues related to refugees in Montreal. Government representatives can only act so far as their constituents make their priorities known. Make some noise!
Do you have any events coming up?
We just wrapped up a busy fall season of collective action events, holiday volunteer initiatives, and our annual fundraising campaign! It's a little quieter for the next few months in terms of public events, but we do have workshops for refugee claimant families every week (see our website), and every day Monday-Friday, we are in-person at our warehouse, sorting donations and welcoming new families. It is a multilingual, friendly, and fun atmosphere – come join us as a volunteer!
Where can we follow you?
Facebook | Instagram | LinkedIn
PAY IT FORWARD: What is an awesome local charity that you love?
We can't choose between Le Pont and Foyer du Monde! Both organizations provide temporary housing and settlement services for newly arrived refugee claimant families and do so with compassion, expertise, and a dedication towards their clients that we deeply admire.