Sloan Kooshan is a Montréal comedian who took part in The Transcontinental Comedy Show, a virtual comedy show with a lineup featuring trans comedians from across North America, back in November. We got to speak with the local comic to find out more about him and his comedy.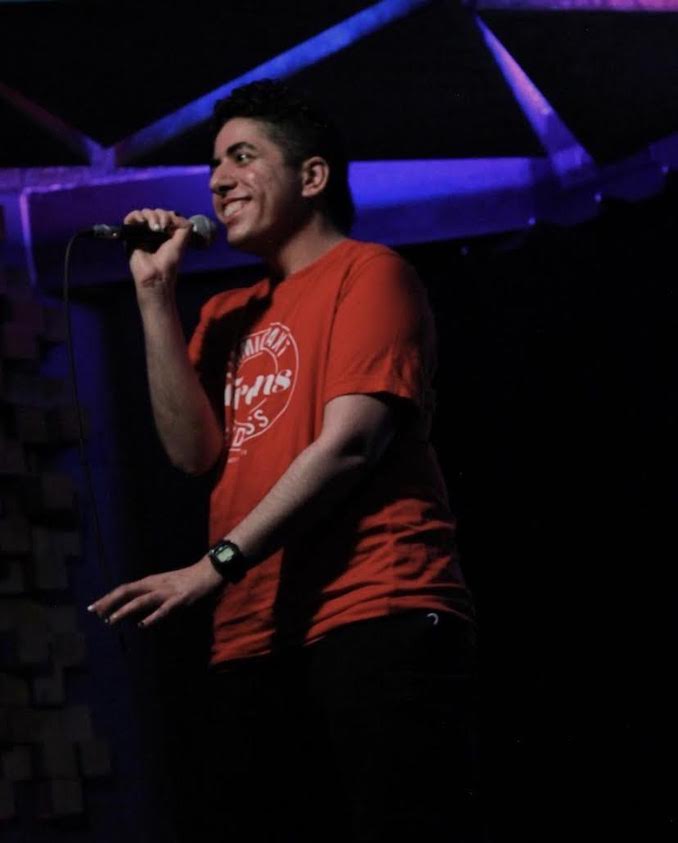 How would you describe your comedy style?
Pure story-telling improvisation. I think of everything on the spot and let the jokes or puns land on their own. I'm just myself really, unfiltered.
Who are some of your influences?
One of my biggest influences is Robin Williams. I loved his spontaneity during interviews specially the one with the Actor's studio. How he could just improvise and make people laugh was something I always enjoyed and aspired to. I love Thomas Middleditch and Ben Schwartz in Middleditch and Schwartz as well. I love Kevin's hart storytelling style it's much more structured. I would aspire to be a mixture of his story telling style with elements of improv.
Who was your favourite comedian growing up?
My favourite comedian growing up was Gad Elmaleh. He is the first comedian I watched when I was about 15 and when I watched his special, that's when I knew I wanted to be a stand-up. He is Moroccan and lived in France before he moved to Canada. I am Persian, born in France and then moved to Canada, so I definitely could relate to his content.
I wish I could say I grew up watching trans comedians growing up, but we didn't have any visibility or representation back then and that's why I don't take any opportunity for granted. I love the work that I do because I get to be that visibility for trans folks today, alongside my fellow trans comedians of course.
Who is your favourite comedian now?
Cassie Workman is my absolute favourite!! That's the trans representation I wish I had growing up! I love her style and she's so funny. And her puns are so clever!! I hope to meet her someday. Seeing a trans comedian on a big stage is affirming and lets me know that anything is possible. We need more trans comedians on stage!
I also adore Trevor Noah, Kevin Hart, Hasan Minhaj, Anjelah Johnson, Joe Lycett, John Richardson and Romesh Ranganathan. I binge on comedy and watch specials over and over. I try and watch a full comedy special every day!
What is your pre-show ritual?
I like to clear my schedule and take the day off to do some self-care routines. I need to clear my mind of any stress and anxiety. I try and take myself for dinner as well. I focus on my mindset and being in a good mood. When I am on stage, I have to deliver the best energy I can, and I need to be content with myself and have had a good day for that to happen.
What is your favourite place you have performed? Why?
The Diving Bell. No matter where I end up, this place will always feel like home. I was asked to headline for the Tales of Gender Affirmations show hosted by my good friend Alo Azimov.
What is your favourite medium for listening or finding new comics/comedians?
I check out every local show where it's a safe space for trans comedians to perform. My favourite live shows right now are Tales of Gender Affirmations with Alo Azimov and Battle of the Witz with Elspeth Wright. They always have new comics every show and those are the two places to find new comics and get exposed to incredible talent. Both play at the Diving Bell! I don't have a favourite medium for finding out comics per se because again we don't have much visibility in mainstream media, I just find out upcoming shows through word-to-mouth or Facebook announcements.
Do you have anything to promote right now?
Follow on social media for updates.
Where can we follow you?
My Instagram and Tiktok is @ sloan.kooshan . My Linktree is @sloancomedy, you can find the link to my Youtube channel I just started on there and also tickets to my show. My Facebook page is also @SloanComedy.
Tell us a joke.
I got my first packer from a Coop who gives out trans-affirming apparel. So, you can say I got an organ donation.