Aretha Chan, a regular food blogger who specializes in aesthetically displaying the best food that the city has to offer, is a Montreal-based food blogger whose primary focus is Asian food and local eats. We had a chance to chat with Aretha, who goes by Arethaeats, to find out more about what she's been doing behind the scenes of her creative reels.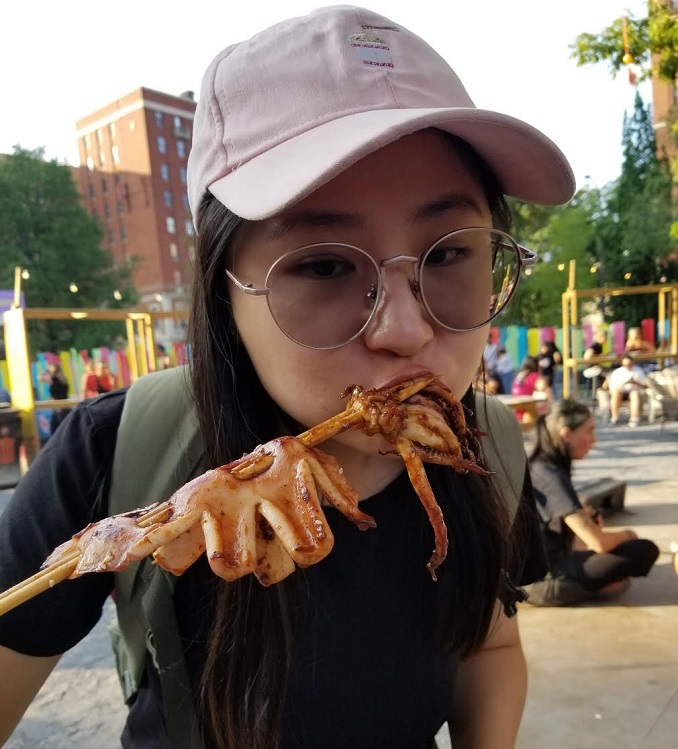 What is your channel called and what is it about?
My main platform is Instagram, but I'm known as ArethaEats on Youtube and Tiktok! My pages vary in content, but at the heart of it, they're all about food!
When did you start it? What motivated you at the beginning?
I started posting photos of the food I ate, and once I realized I had too many, I needed to make a dedicated account! At the time, I was also living on my own for the first time, so I had to teach myself essential culinary skills, as well as figure out where to get the best food in town. I started using Yelp to search for restaurants and write reviews, which is where I discovered my passion for talking about food. As for my Youtube, I was already teaching people how to cook since I was the president of the McGill Culinary Society. I combined this with my interest in anime and Japanese cuisine to create cooking tutorials. Although I no longer have the time to make youtube videos (it was a pandemic project), I still think it was my best work.
Who were you inspired by? Any influences?
For Instagram, a blogger I've always looked up to was @supertastermel, she was one of the earliest creators I followed when I was searching for recommendations in Hong Kong. I've been influenced by her and other people's ideas over the years, and I'm still trying to diversify my content! A big part of being a creator is being creative with your content to figure out what you like and what your audience wants to see.
How would you describe your audience?
Hard to say because my videos reach all sorts of people! Mostly locals in Montreal looking for cool spots to go to, but I also make videos based in Toronto as well. I've also been fortunate to build a community with other local creators where I have found close friendships through being a Montreal blogger!
As for youtube, I think most people watching are fans of anime, or whatever subject matter my videos are about.
What is your creative process? Do you have people who work with you?
I like to figure out the type of content I will do on the spot. A photo carousel, an informative reel, a cinematic reel, a newsreel; it could be anything! Then I will capture the images or footage accordingly. I work by myself but I usually have other creators to hand model, my boyfriend, to take videos of me, or just friends to eat food with! (which is part of the process of course)
How do you monetize your content? Do you also have another job?
Unfortunately, I have not reached the youtube watch hours to monetize. There's no monetization system on Instagram but some creators choose to charge businesses for their collab posts. I usually do gifted collaborations because a free meal always feels less stressful than "work"!
My day job is as a research associate in a pharmaceutical company. Being a content creator is just a hobby!
What is your favourite piece of content you have created?
That would be my Saiki K coffee jelly video! It became surprisingly popular and my main motivator to keep doing Youtube.
What is the best part about what you do?
The best part is getting to try delicious food! Not just free food, but being part of the community lets me discover the latest and the greatest.
What is the worst part?
The worst is the time and effort it requires for just a hobby, but not getting paid for it. It's sometimes stressful when you're late on posting a collab and the business is waiting on content! Between engaging with the community, booking with businesses, and editing videos; it all takes a lot of work.
What are your future plans for your channel?
I'm just going to focus more on TikTok and Instagram for now! I see a lot of potential in TT so I will try to create more there. Youtube is still on hold.
Where can we follow you?
PAY IT FORWARD: What is another Canadian content creator that you love?
@randomcuisine is another local MTL blogger and one of the first people I followed. His content is not just entertainment, he talks about food science and cultural information as well. He also does an awesome Chinatown food tour!