Formed in 2009, Upon Your Grave established itself quickly with the release of its debut self-titled record in 2013. That release was followed by many shows and direct support for acts such as Vital Remains, Skeletonwitch, Battlecross, and Cryptopsy, cementing the band as one to watch out for. In 2019, at the dawn of the band's 10th anniversary, they had found their perfect lineup by adding two new members Sebastien Gagné on drums and Yan Pelletier on Bass. By the time given by the lockdown the band started writing for what would become their first new release in nine years, teaming up with Christian Donaldson of Cryptopsy, this collaboration was the perfect fit that would elevate their performances to a more genuine and aggressive sound. Gold & Decay proves that work ethic and perseverance can truly refine a band's sound to what they had always been striving for: Crushing vocals blended with catchy melodies, badass guitar riffs, and memorable solos, making Upon Your Grave a band you want to keep on the lookout.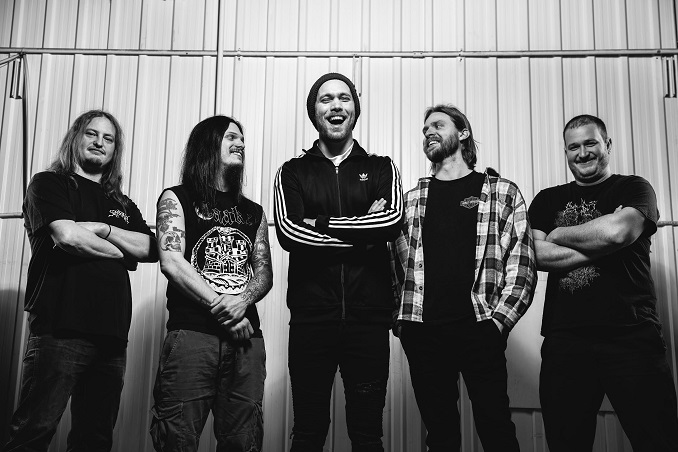 Name:
Upon Your Grave
Genre:
Death Metal
Founded:
2009
# of Albums:
2
Latest Album:
Gold & Decay
Latest Single:
Transcend
Latest Video:
Favourite musician growing up:
Jimmy Page and Marty Friedman
Favourite musician now:
Richie Kotzen
Guilty pleasure song:
OMG, I have so many you could not believe it! let's go with :
MGK – ay!
Live show ritual:
2 beers and a shot of whiskey.
Favourite local musician:
Inner Odyssey, a great local Prog Band, with my dear friend, Alex Rancourt on the bass.
EP or LP?
LP
Early bird or night owl?
Early Bird, I'm up at 6 o'clock all the time. Sleeping is for went you'll be dead!
Road or studio?
Studio for sure, really like the creative and recording process, tho see the entire songs become alive and shapeshift is really cool.
Any shows or albums coming up?
Our new EP, Gold & Decay just came out in October, do not miss out. It's gonna leave wanting more I guarantee!
Where can we follow you? 
Facebook | TikTok | Instagram | Twitter | EPK FR | EPK ANG | Spotify | Bandcamp | YouTube
***
Rapid Fire Montréal Qs
Favourite local restaurant:
Fancy Sushi for sure, best sushi's in our hometown of Levis, Quebec. Fresh fishies!
Favourite street in your city:
Saint Joseph street in the old town of Quebec. Because of its vivid vibes, many bars and skate shops are there and the Imperial, which is the most common venue for the bigger artist that come to play in town.
Favourite park in your city:
I live in a small village outside of the city, so the only park here I think is the corn fields around ahah
Favourite music venue in your city:
Théatre Le Capitole in Quebec City is my favourite venue, all the concerts I went to there were magical. The acoustic and sounds there is always top quality.
Favourite music store in your city:
My two favourite places to shop vinyl in Quebec are Explosive Groove and Le Knock-Out!