For this week, the chef of the restaurant AYLA shared with us this amazing Whole Roasted Mediterranean-style Cauliflower recipe.
AYLA is an Eastern Mediterranean-inspired restaurant located in the heart of Griffintown at 386 Richmond Street. Ayla offers convivial dishes with a sophisticated and delicate touch.
You will love to share this easy tasty dish!
AYLA: Website | Facebook | Instagram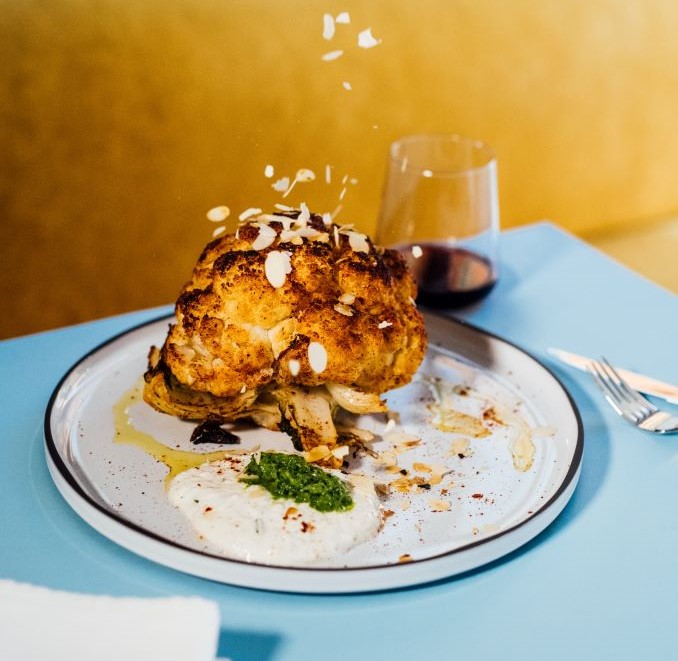 Whole Roasted Mediterranean-style Cauliflower by AYLA
INGREDIENTS:
• One whole cauliflower
• 5ml Berbere
• 7ml Aleppo pepper
• 2.5ml Ground cardamom
Tarator Sauce:
• 4tbps Yogurt
• 30g Blanched almonds
• 1/2 Garlic clove
• 15 ml Evoo
• Pinch White Pepper
• Lemon Juice to taste
• Salt to taste
• 20g Stale bread (optional)
Zhug (Green Sauce):
• 1/2 cup chopped cilantro
• 1/2 cup chopped parsley
• 2 Green onions
• 1/3 Green chilli
• Lemon
• Evoo
• Ice cubes
• Salt
DIRECTIONS:
• Bring salted water to a boil and simmer the entire cauliflower for about 8-10 minutes
• Mix Berber, Aleppo pepper and ground cardamom
• Drain cauliflower and let sit for 5mins
• Coat the entire cauliflower with olive oil and the spice mix
• Roast at 450F for 20-25 min
• While the cauliflower is in the oven, prepare the Tarator Sauce and Zhug
• Spread the Tarator sauce on a big plate
• Place the roasted cauliflower on top of the sauce with the Zhug served on the side
• Slice the cauliflower, dip in the sauces and enjoy!
Tarator Sauce
• Mix almonds, garlic and bread in food processor until it becomes an homogeneous powder
• Fold in yogurt, olive oil, salt, lemon and wine pepper
Zhug
• Blend ice, lemon, olive oil, salt and all the herbs
• Pulse-mix all ingredients until you get an even and chunky sauce