For this week's recipe, Chef Chuck Hughes shared his simple and incredibly tasty recipe for stewed turkey thighs with tomatoes, olives, and garlic.
Chuck is the co-owner and executive chef of Montreal hot-spot Garde Manger. He is also the talented star of such shows as Chuck's Day Off, Chuck's Week Off, Chuck's Eat The Street and Chuck & Danny's Road Trip. His unbridled passion for entertaining translates into both memorable food and captivating television.
After going to culinary school and working in some of the hottest restaurants in Montreal he partnered with his two best friends and opened Garde Manger in 2006 to rave reviews and packed seating.
Since 2010, Chuck and the team at Crown Salts cater the VIP Artist World at Osheaga, Montreal's renowned 3-day music and arts festival. Every year Chuck and his team create an unforgettable dining experience for the over 100 appearing bands at the festival.
Some of the other highlights of Chuck's celebrity cooking career include; becoming the youngest Canadian chef to win on Iron Chef America; starring with nine other celebrity chefs on The Next Iron Chef: Super Chefs; joining an all-star panel of judges on Chopped Canada and starring in four Quebec series À couteaux tirés, La Relève, Le monde selon Chuck and L'atelier Culinaire. He also produced two best-selling cookbooks "Garde Manger" and "Chuck's Day Off."
In 2015, he launched a line of highly anticipated food products. My Kitchen Staples are delicious essential items such as olive oils, vinegars, cocktail sauce, maple syrup, antipasti and hot sauces that Chuck uses in both his restaurants and at home. My Kitchen Staples are currently available in stores across Canada. Go to www.chuckhughes.ca to find the nearest one.
Most recently Chuck launched a cookware line exclusively with The Bay, available in stores now. Next up, Chuck will start production of his third season of Chuck and the First Peoples' kitchen on APTN.
Website | Facebook | Twitter | Instagram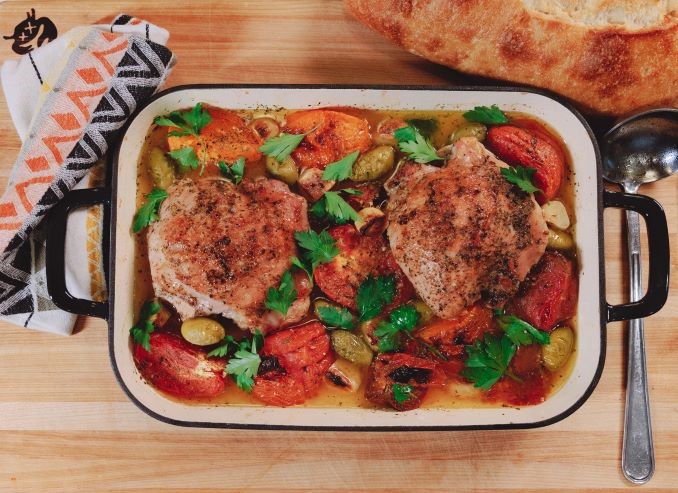 Stewed Turkey Thighs with Tomatoes, Olives and Garlic
Serves: 2
Prep time: 15 minutes
Cooking Time: 65 minutes
Ingredients:
• 2 turkey thighs
• 3 large heirloom tomatoes (quartered)
• 10 Whole green olives
• 1 small head of garlic (peel and separate cloves)
• 1 tsp Salt
• 1 tsp Pepper
• Zest of ½ lemon
• 1-2 cups water
• 1 tsp Italian seasoning
• 2 tsp olive oil (to drizzle)
Directions:
Pat dry turkey thighs with paper towel.
Place in a bowl, lightly drizzle with olive oil and add seasoning.
Place seasoned thighs in roasting pan.
Add tomatoes, olives, garlic cloves and add water
Cover and bake at 375°F for 60 minutes, then remove cover and broil for 5.
Garnish with flat-leaf parsley and serve with crusty country bread.
NUTRI TABLE:
Calories: 493
Protein 65 g
Carbs 19 g
Fat 19 g
Sodium 1638 mg