Canadian MSC Ambassador Chef Charlotte Langley shared with us this recipe for Sushi Pizza with Tinned Tuna. Homemade sushi pizza is a satisfying meal or snack that combines all the flavours and textures you'd want from this dish – crunchy, creamy, salty, umami and just a touch of sweetness. Tinned tuna shines here, but you could sub in literally any MSC certified sustainable alternative (like tinned sardines) as a really fun way to introduce your family or friends to tinned fish.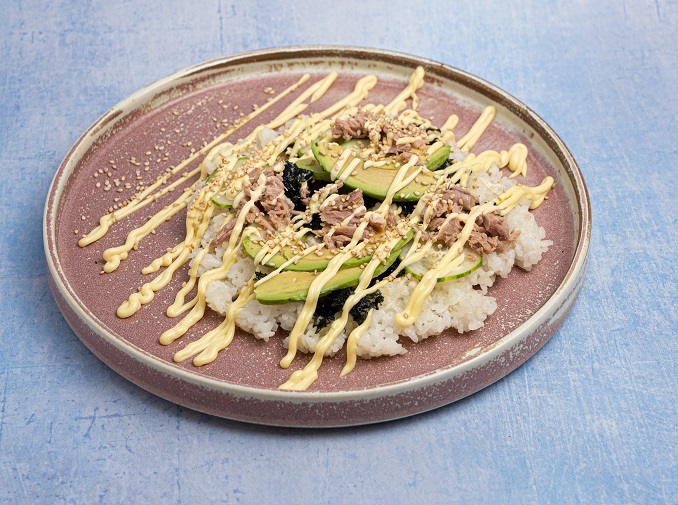 Sushi Pizza with Tinned Tuna
Prep: 15 minutes
Cook Time: 10-15 minutes
Serving size: Serves 4 as a main course for lunch or dinner
Experience level: Beginner
Ingredients:
2 cups (410 g) of cooked sticky rice (or any rice)
2 tsp (10 ml) rice wine vinegar
1 egg white
1 tsp (3 g) toasted white sesame seeds, plus more for garnish
Salt to taste
Cooking spray or neutral oil like vegetable or canola
1 tin (approx. 150 g) MSC certified sustainable tuna in water or oil as preferred
½ a cucumber, sliced into rounds
1 avocado, sliced
4 sheets of nori
2-3 (30–45 ml) tbsp Kewpie mayo
1 tbsp (5 g) wasabi paste (store-bought)
2 tbsp (30 ml) soy sauce
Directions:
1. Cook rice according to instructions. Once cooked and while still warm, add the rice wine vinegar and salt to taste. Let cool completely.
2. Once the rice is cool, mix in egg white and sesame seeds, and roughly form two equal patties.
3. If using day-old rice, simply bring the rice to room temperature, mix in the rice wine vinegar and salt to taste until fully incorporated, then the egg white and sesame seeds. Finally, form your patties.
4. If using a waffle iron, pre-heat to medium-high. Coat both sides lightly with cooking spray, load up one rice patty and cook for 5-7 minutes or until lightly golden brown and crispy.
5. If pan frying, in a medium-sized pan on medium-high heat, add oil and once hot, fry patties for 3-5 minutes per side or until lightly golden brown and crispy.
6. Let the patties cool slightly.
7. Drain the tin of tuna and divide into two.
8. To assemble, top each rice patty with 2 sheets of nori, sliced cucumber, and avocado. Scatter one-half of the tuna evenly on each, drizzle with kewpie mayo and add a sprinkle of sesame seeds.
9. Serve with wasabi, soy and enjoy!