This week we had the privilege to speak with The Depot Community Food Centre for our "Charitable Choices" feature. This local non-profit organization aims to solve food security challenges in NDG and neighbouring areas. We spoke with Executive Director Tasha Lackman to learn more about them.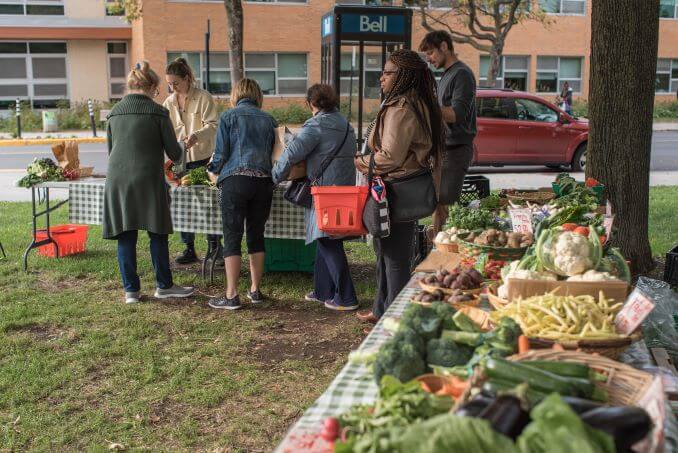 Describe your charity/non-profit in a few sentences.
The Depot Community Food Centre is a community-based non-profit organization founded in 1986 that works collaboratively with other community partners to address issues of food security in NDG and the surrounding areas.
A Community Food Centre (CFC) is a welcoming space where people come together to grow, cook, share and mobilize for Good Food for All. CFCs work towards health, belonging and social justice in low-income communities, harnessing the power of food. Being a CFC positions us as part of a national movement working to advance issues of food security and poverty. People access emergency food, build their cooking and gardening skills while sharing their knowledge, and kids expand their tastes and get their hands dirty in kitchens and gardens in ways that help them make healthier food choices. Community members find their voices on the issues that matter to them, and people find friends and support. CFCs offer multifaceted, integrated and responsive programming in a shared space where food builds health, hope, skills and community.
What problem does it aim to solve?
While the focus of The Depot's work is food insecurity in NDG and surrounding areas, we recognize that food insecurity is a direct result of poverty, and ultimately the solution to food insecurity is the creation of a just and equitable society. As we work towards this vision, we believe in an approach that supports the most vulnerable and marginalized members of our communities.
Accordingly, the Depot is committed to supporting our community by providing access to nutritious food, social opportunities, and building skills and knowledge with dignity across all of our food programming. We operate with the mission of Good Food for All and promote the consumption of whole foods to support overall health and wellness, combat diet-related disease, and increase resilience among community members.
The Depot is aware of the powerful role that we play in the food system and is committed to
continuous improvement of our food procurement and distribution practices. This means that we deliberately consider the whole food system with questions of quality and nutrition, long term health of our participants and the planet, ethical treatment of people and animals, and issues of equity when deciding how we source food for our programs.
When did you start/join it?
I joined the Depot team in January 2022. My journey into the non-profit sector followed a more than a decade-long career as a commercial real estate lawyer at a leading national law firm. I was always an active volunteer in a number of key organizations in Montreal, and five years ago when I decided to pivot full-time to mission-driven work, I began at McGill University in a strategic role in University Advancement. I came to The Depot after over three years at the Foundation of Greater Montreal, where I acted as Vice President of Community and Philanthropy.
What made you want to get involved?
It is with tremendous pride and excitement that I joined The Depot team. I have followed The Depot from a distance for years and have always been deeply impressed by how they address food insecurity with social justice and community engagement lens. During the ongoing pandemic they have proven over and over how dynamic and agile they are, with a committed team who is pivoting regularly to meet the changing and growing needs of its members and the community at large. I am thrilled to be diving into this work and know there are big projects in store that we will achieve together. On a more personal note, I am thrilled to be closer to the ground, where I can see the direct impact of my work on the lives of community members.
What was the situation like when you started?
When I joined the Depot team in January, we were still in the midst of the fifth wave of the pandemic, and our in-person programming had not yet resumed. Our emergency food baskets were all being delivered, and our drop-in meal program was still on pause. Summer programs like markets and community gardens were not yet ramping up, and our youth programming and community kitchens were happening virtually.
While we were on standby to reopen programs and once again pivot, the demand for emergency food services was at an all time high, and the inflation rates were skyrocketing. In December, 122 new participants signed up for emergency food services at the Depot, a 15-per-cent increase over November and the highest number of new registrations for a single month in 2021. And the trend continued in January and February. As of Feb. 15, there were 93 new registrations for emergency food baskets for the month. The Depot served 1,183 people in January and 579 people by mid-February. We can speculate that this is related to Omicron, as well as inflation and the end of government income replacement programs. We've been working really hard to keep up with demand, to make sure people have access to high-quality healthy food and to serve the wide spectrum of participants who rely on our services.
How has it changed since?
We are excited to be ramping up a number of in-person programs that will meet the various needs of participants and community members, recognizing that food insecurity is a spectrum and different members of the community have different needs that are not all met by emergency food baskets.
The Marché Depot opened its doors on March 8. It is an innovative way of offering emergency food baskets, which allows participants to come and choose the contents of their baskets in a market-style space. Ressource people are also on-site to get to know the community members who come by and to refer them to other services that will be useful to them.
The Resto Depot just reopened its doors to the public on April 1st, welcoming community members for free drop-in meals, coffee and a place to meet a friend four days a week.
In addition, our community and collective gardens are accepting registration for this growing season, which will welcome 160 gardeners across 6 gardens, and we are getting ready to open our weekly outdoor food markets in three neighbourhoods within NDG where there is not a
grocery store within walking distance.
What more needs to be done?
We are rethinking many of our programs as we slowly emerge from the pandemic. This works involves a deep look in the mirror and as we examine our systems, structures and ways of delivering services through and anti-opressive and anti-racist lens. We are working with consultants who are supporting us as we create a meaningful and engaging, stakeholder-informed Anti-Oppression, Anti-Racism Plan for The Depot and ensure that our team has the capacity and understanding to implement it. We are an organization that is constantly learning and evolving in order to best serve the community's needs and wants, and to be part of the solution as we work towards a more equitable and just society.
How can our readers help?
The Depot relies on the support of our generous community to purchase healthy food for our programs. For every $10.00 donated, we can purchase an average of $30.00 worth of fresh food, which represents, for example, one week's worth of healthy snacks for five children in an afterschool program. Your generosity helps our neighbours access healthy, affordable food; gather safely with others; share a good meal; and find resources to help them move forward.
Giving time is also an amazing way to support the Depot and your community. Volunteers make up almost ⅓ of our workforce by hours, which makes it possible for us to deliver amazing programs that serve the community.
You can make a donation and sign-up for volunteering.
Do you have any events coming up?
No, we are putting our energy into reopening in-person services, and do not have any events planned, but readers are welcome to come by for a meal at the Resto Depot to get an even better sense of the work we are doing.
Where can we follow you?
You can keep up with us on Instagram, as well as Facebook and LinkedIn. You can also learn more about us and keep up with our various programs by visiting our website!
PAY IT FORWARD: What is an awesome local charity/non-profit that you love?
We would love to give a warm shoutout to our friends at the Lasalle Multicultural Resource Center (LMRC)!