Medical Herstory is a Montreal-based charity that sheds light on those who feel unheard and ostracized when seeking medical assistance. They are on a mission to advocate and create a safe environment for individuals who do not receive the adequate healthcare attention they deserve. They also provide workshops and education sessions for healthcare providers. We spoke with Tori Ford the Founder and Executive Director of Medical Herstory to learn more.
Describe your charity/non-profit/volunteer work in a few sentences.
Medical Herstory is a not-for-profit on a mission to eliminate sexism, shame and stigma from health experiences. We are dedicated to advancing gender health equity through patient advocacy, medical education, and undoing stigma. Our services include educating and empowering patients, doctors, and the public through storytelling, skills-based workshops, supporting research, and leading advocacy campaigns.
What problem does it aim to solve?
Health conditions that disproportionately, or differently, affect people assigned female at birth are chronically underfunded and under-researched. Further, evidence shows that women and gender-diverse people are more likely to be misunderstood, misdiagnosed, and mistreated in medical settings.
Medical Herstory was built from personal experiences of medical dismissal and a desire to see change. Our community has shared stories of ovarian cancer being dismissed as period pain and chronic gynaecological discomfort being belittled as "all in your head". We built our community so no one has to go through these experiences alone. Our work is trans and non-binary inclusive and built on principles of anti-sexism, anti-racism and anti-ableism.
When did you start/join it?
Medical Herstory started 4 years ago now.
What made you want to get involved?
After navigating years of chronic illness, embarrassment, and medical dismissal, I felt isolated and misunderstood by healthcare professionals. Feeling frustrated and inspired to drive change, I shared my story with the McGill student newspaper and was approached by multiple people with similar experiences. A platform did not exist to share these stories, so I created one.
I was sick and tired of reciting her medical history in a dehumanising, dismissive, and emotionally draining way. That is when I had the idea of writing a Medical Herstory, a narrative that would be vulnerable, empowering, and impactful.
What was the situation like when you started?
When we first launched Medical Herstory, gender health inequity was still rarely talked about.
How has it changed since?
We are so excited to see topics of gender equity, inclusion, and empowerment finally receiving more attention. Our team has grown to over 100 volunteers and we have supervised a dozen medical students and been partners for award-winning research projects.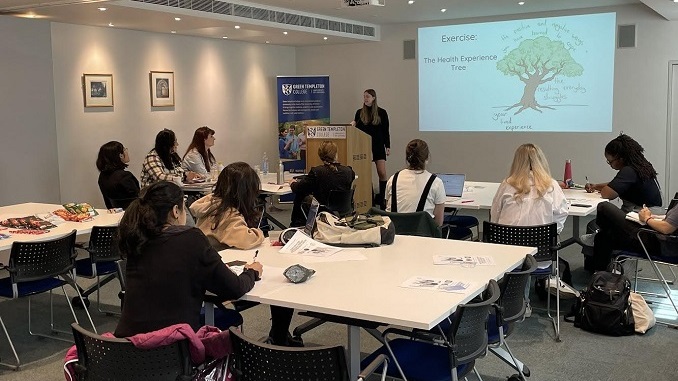 What more needs to be done?
Unfortunately, medical sexism, shame, and stigma are still prevalent. On a systematic level, less than 2% of public funds support feminist health organisations like ours. We have so much work to do and are grateful to everyone who helps us in our mission.
How can our readers help?
If you would like to support our work, we are actively seeking partners and volunteers. Please consider donating as we rely on people like you to run our vital services:
Do you have any events coming up?
Our annual Feminist Health Conference is coming up this September! Follow us on social media to learn more.
Where can we follow you?
Website | Instagram | Linktree
PAY IT FORWARD: What is an awesome local charity that you love?
We're big fans of STEM Diversity at McGill!